Today I Saw God
Costa Rica 2013 Mission Trip Day 4
Yesterday, Tim shared in his message that we should all take small steps in our daily lives to act more like Jesus. So today, I decided to step up and volunteer to do the "dirty job". We mixed the cement, and made a small parking lot. By lunchtime, I was covered in cement, but it was the most fun I've had doing work all week. This made me realize that taking steps to be more like Jesus wasn't hard at all. Even though my shoes will never be the same shade of white, I'm glad to know that we helped this church in a way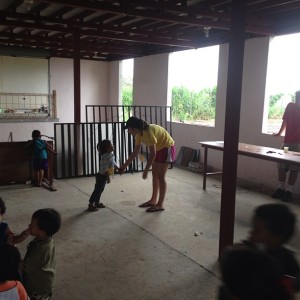 they will never forget.
After lunch, we followed the normal routine of going to VBS. It brightened my day to see the kids I had seen the past three days, plus more. Even though most of the time I have no idea what they are saying, we still seem to have to best times together. I never thought that you could have such a strong connection with a child that doesn't even understand your language. I spun so many kids around, and gave so many piggyback rides that my body is sore.
Another thing I thought was interesting is it seemed like all the kids were related to each other. Whenever I would ask someone "Is this your friend?" most of the time they would say that it was there sibling or cousin. They all seem to be one big family that still all live on the same street. It's sad that most of America isn't like this, and is more distant to the family. I think the kids can teach us that your family should be your friends, not the people who you come home to when you're crabby after a long day of work or school. Overall, I think the kids of Alajuela will transform me, even though the purpose of this trip was to transform them and this church. I will always remember the names and faces of the kids. Especially how they would get so excited over "las bombas", or balloons. Even though the trip isn't over yet, I know Christ has worked through the kids to help us see what true happiness is.
-Ashley Welker
Today I worked at the center on paving a small parking lot. I shoveled rock into buckets to be mixed with dirt and water to create cement. Let me tell you, shoveling rock is no easy task, I mean that stuff is heavy! Anyway, we almost finished the lot today; we only have a small section left. Looking at how much we had accomplished made us feel proud and happy to know the difference that we just made.
The highlight of my day, as always, was VBS with the kids. They are the most grateful and loving group of kids I have ever met. For my sister, Kenna, this is her fourth time going and she has made such strong relationships with some of the kids. There's specifically one girl, Tania, who has become attached, and adores Kenna. On Tuesday, Tania's mom came up to me, excited to meet me, just because I was Kenna's sister. Yesterday when I walked into the neighborhood, Tania came running into my arms and asked me where Kenna was. Seeing the bond between them amazes me, and I hope to have that same relationship with some of the kids in the future.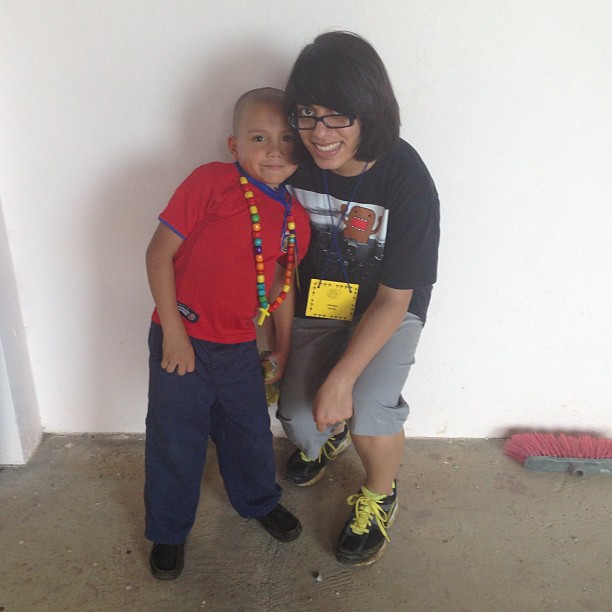 The highlight of my day is spending time with the kids at VBS, but the highlight of my week happened yesterday at VBS. Last year I bonded with a little boy named Christopher. He had the biggest smile and the most adorable laugh. Over this past year I couldn't help but think of him, miss him, and hold onto the hope that I would see him yet again. So on Monday I went to VBS with high hopes to see him, but he didn't come. On Tuesday the same thing happened, and I became worried that he wouldn't come this year. At church on Tuesday night, Ginny turned to me and pointed to the back row, and there he was. There was my Christopher. All of my fears vanished, he was alive and well, and that's all I needed to know. However, yesterday at VBS Ginny pointed to a boy coloring, and he was there. It was Christopher again, so I ran up and hugged him. I was not sure if he remembered me, but I didn't care. It felt good to run around with him attached to my back again, and after a few minutes I do think that he remembered. He came again today, and he made me run around in the rain, but that was fine by me. I like being muddy anyway.
This trip helped me realize how much I have and how much I take for granted. I hope that I will come home a changed person and stay that way. Probably most people on this page have said that, but honestly after looking at those kids, you can't not be a changed person.
Dad, you're still making that special pasta for dinner on Sunday right? Okay well, thanks for reading this! I love you Mommy and Daddy. Adios amigos!
-Nicole Salvatore
The post Costa Rica 2013 Mission Trip Day 4 appeared first on Today I Saw God.