Today I Saw God
God Bless People Who Donate Blood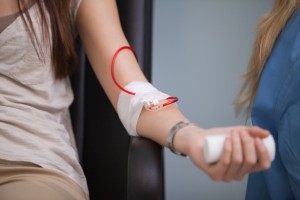 I've donated blood three times in my life. The first time was in high school and the other two times I was in my 20's. Each time I've successfully donated but by the time I get to sit up and walk to the table to have juice and cookies, I become very close to fainting. If you've donated blood, you've probably seen people who have had to go back to a bed and lay down again. Well, that's me. I've been avoiding donating blood for years now because it makes me feel terrible for hours after donating.
Last week I was able to spend the whole day with my mother. I received a call Wednesday night from her letting me know she was to go to Fairfax Hospital the next morning for a blood transfusion. My mother has leukemia, and she had been to her doctor that afternoon, and he told her that her chemo treatments were not working and that she needed a blood transfusion.
I was very nervous for her and didn't know what to expect with the procedure. I have no experience with a blood transfusion but found that the experience was actually very peaceful as we sat in the hospital for eight hours talking andhaving wonderful conversations while waiting for two units of blood to be slowly fed into her through an IV tube. As these two units of blood were given to my mom, I prayed for the people who donated the blood. I thought about how this blood that someonedonated is helping my mom and making her feel better. I don't know whothe donorsare, and I never will. They are just people who want to help someone elseunconditionally.
It dawned on me that as a staff member of Floris UMC, I have the unique opportunity to see unconditional love expressed every day by the people who attend our church. Whether it be by those that go on mission trips, serve the homeless and the poor, volunteer at Hutchison Elementary, serve during Sunday worship, lead small group Bible studies, help with children and student ministries and/or a myriad of other activities that take place through Floris UMC, this is a community where unconditional love abounds.
For the past 20+ years I've avoided donating blood, but now I know thatI can give blood even though it may make me feel sick for a few hours. I'm putting all that aside to give blood on Saturday, August 3 when Floris has its annual Blood Drive. I hope it blesses someone else like it has blessed my mom.
-Carol Edwards
The post God Bless People Who Donate Blood appeared first on Today I Saw God.