Today I Saw God
Hurricane Sandy: A Letter From the Homeowner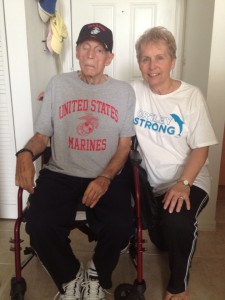 Dear Floris UMC,
On October 29th, 2012, Superstorm Sandy devastated the Jersey Shore. My town, Ortley Beach, became known as ground zero. Although no lives were lost in my area, less than 1% of the town's homes received no damage. There are close to 2,500 homes. My parents, Mike and Audrey, have owned their home for 52 years. It is where I grew up.
Although the house survived the storm, we lost everything inside and out and sustained major flooding to the interior. My dad is in a wheelchair, needs someone with him at all times, and days after the storm I made the decision to send them out of state where they would be cared for. I was left to tackle on my own throwing out everything they owned and the interior tear down. The house was gutted to the studs. My heart was broken for my parents and after 5 and half months, I was mentally tired but not willing to give up. You see my dad is marine, I was broght up not to give up.
About a week ago I recieved a call that there would be a group coming from Virginia to help me rebuild. Rebuild…not a word in my vocabulary. I met them
last Friday at my house and for the past 5 days they have worked tirelessly on putting my house back together so my parents can come home. They were precise, diligent and pushed me aside and took over what I thought was a moutainous task. Each day there was more and more progress, so much I found it hard to comprehend. I now had floors, walls, wheelchair barriers forever gone…I found out they were from the Floris UMC and realized they were doing this on their own. To help me. when I got home each night I reported to my parents what was happening. My mom said to me I don't understand, why are they doing this, they don't know us. My parents have not seen the destruction to their town or what happened to their home. It was too dangerous to take them there. I told her they are doing this because they care and we can't move on without them. They want to give you your home back, that is all they care about.
My parents will never have the imagines in their minds of their belongins thrown to the curb, a beloved home gutted. They will see a home brought back together by the love of people and the goodness of human nature. I wanted to share with you some pictures I took and a picture of my parents. There are not enough words to express my thanks and gratitude for what your group has given us. Whenever you are at the Jersey Shore, stop by and see us.
Denise
The post Hurricane Sandy: A Letter From the Homeowner appeared first on Today I Saw God.