Today I Saw God
Philadelphia Mission Trip Day Four
We started off the day today by going to Harold O. Davis summer camp to help with the kids. It was very fun because we actually took them to the local pool. After that we went to the West Philadelphia branch of the Salvation Army. It was almost 100 degrees today so luckily they let us stay inside. We helped to organize a food pantry and bag rice for distribution. We also visited the West Philadelphia high school and I have to say, it impacted me. It is an inner city school, so the rate of violence is high. I found it very humbling to hear the statistics as they compared to Fairfax County schools.
At the food pantry we separated the various foods into groups and stacked them accordingly. That pantry is now immaculate and, quite frankly, a site to see.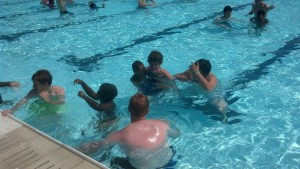 My favorite part of the day was definitely playing with the kids in the pool. It was so hot out, everyone was very excited to get in. I played with a little boy named Najee. He didn't know how to swim so I had to keep a close watch on him. The whole experience was really fun.
We finished off the day by getting lunch at a West African food establishment. It was different. It is a bittersweet feeling to go back home tomorrow. On one hand, I am happy to head home, but I will definitely miss this trip. My group was so much fun and we worked extremely well together. This was also a very eye-opening experience. Coming from where I do, it was very humbling to see how people live. But overall, this trip was so fun and I hope to come on one again.
-Matt Broadus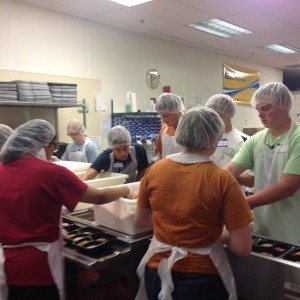 Today, we started out by learning what it really meant to be hot, sweaty, and thirsty. We walked up three blocks just picking up trash in the scorching Philadelphia heat. I don't think I've ever sweat so much in my life before. Luckily we were done by 12 and able to get back in the air conditioned cars and eat lunch. After we ate lunch, we went back to the fellowship house to bag food again. We were done early and, once we got home, we had some free time to just relax after we showered. The free time was nice, especially since today we had three different service projects. After we ate dinner at an amazing Thai restaurant, we took some bagged meals that we had prepared before dinner to homeless people in Philadelphia. At first I was nervous, but after giving the first few out I felt much better. The meals went fast and afterwards I had time to have a discussion with a man about fantasy stories. We didn't even know each others names, but we were still able to have a conversation about so many different things.
This week has been a great experience for me and, even though I'm excited to get home, I am going to miss all of the fun things and great people I met on this trip.
-Sarah Wilkowske
The post Philadelphia Mission Trip Day Four appeared first on Today I Saw God.