Today I Saw God
Philadelphia Mission Trip Day Three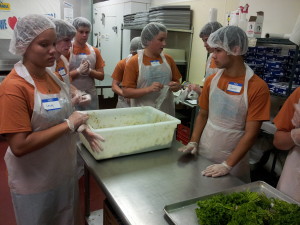 We had a great day today. Today we switched up the groups. Group 1 became group 2, and group 2 became group 1, but just for today. My group went to the summer camp today with Ashley. We got to spend a great amount of time with kids from Philadelphia. They are very lovable kids and they are great to work with. As soon as we got there all of the kids started interacting with us. The age range was very drastic from 6 to 12-year-olds. They are a very energetic group and fun to work with. I was very happy that my group got to spend time with the kids.It was so awesome to see these children so happy playing with teenagers like us. I could feel God working in their little hearts and I hope and pray that they will give their lives to God soon. We also got to eat lunch with them and they were sad to see us leave. The second thing we did was go to an organization called MANNA. They provide food for people with many different diseases. We got to package the food. We made two types of meals; one was a hot food including chicken, applesauce, and vegetables. The second was a chicken sandwich. I am looking forward to our missions planned for the rest of the week.Bye for now.
-Mercy Wadhwa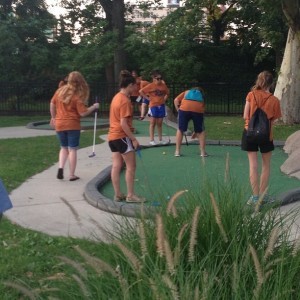 My day started out at 7:30 this morning. As always, I was woken by the girls chattering away. I can never understand how they're so happy and can function so well that early in the morning. Personally, I'm not able to put together a coherent sentence for the first hour after I wake up. After breakfast and making our lunches we all piled into the van and drove off to our work site. We found ourselves at Manna, a nonprofit organization that gives nutritious meals to those battling life-threatening illnesses. At the work site we were given a joyful greeting along with cookies and coffee. We were put into an assembly line and packaging meals. I thought the food looked amazing and was unsure how they were able to make such a large quantity of quality food. Altogether we packaged 26 trays of food each holding twenty meals (you do the math, it's summer).
I forgot to mention we had to wear long pants to the work site despite the fact that it was 97 degrees out! After changing into shorts we did some site seeing, going to the historic part of the Philly. And of course, I saw the Liberty Bell. After the stroll around Old Town we got the opportunity to play some miniature golf and eat burgers. Tomorrow we will be working with the inner city kids we have been helping daily, Tieff and Josiah are my favorites. Au Revoir!
-Sam Greenfield
The post Philadelphia Mission Trip Day Three appeared first on Today I Saw God.