Today I Saw God
Editor's Note: During Floris UMC's February 2017 sermon series, "Unburdened," we asked congregation members to anonymously share their stories of forgiveness. The following is one of those stories.
My life changed in July of 2010. I'd quit my job and uprooted my kids from their school and home to move out to Virginia. I took a call halfway across the county from my husband, who had moved a month ahead of us, that left me reeling. He didn't love me anymore, and my future had suddenly, to me, gone sideways.
I spent the next few years sorting through the pieces of my life. An affair, sex and porn addictions, verbal abuse, financial hardship and loss of my support network left me stripped bare. I couldn't imagine forgiving the other women or my husband. I couldn't bare to face the fact that he seemingly didn't care. I couldn't bare coming to church. I couldn't bare happy people. I couldn't bare couples.
I ran. I got a job. I started to tell my friends and family. I started to get my life back. I started talking to God again. I went to counseling. I fought for my marriage and family. I still hated the other women. I still hated my husband.
Then, with God and my support network, I gradually began to step back into my life. I know God placed people in my life to pull me through the darkest moments. I filed for divorce and began another battle. I still hadn't been able to forgive him, or the women, for the destruction of our family.
When the divorce was final, I made a conscious decision to forgive him. I would mentally remind myself that I chose to love my children, which means I can't hate their father. I felt the peace that passes no understanding when I let go of the hate, the hurt, the disappointment and the desire to control. I talked to one of the women. I looked her in the eye and wished her happiness in her life. Without forgiveness in my heart, I would not have had the strength to do that.
Some days I struggle with my decision to forgive him. I try, sometimes more successfully than others, to give it to God. I know God loves me too much to choose bitterness and hate. I chose forgiveness.
The post I Chose Forgiveness appeared first on Today I Saw God.
I'll admit it. I watch the Super Bowl for the ads. My major in college concentrated in advertising and public relations so I am far more excited about the Super Bowl ads than the teams playing each year. Prior to the game, instead of reading up about the teams, I read articles analyzing the ads that will be shown. I didn't even know the head coaches were brothers until the game started. I take my bathroom breaks during the game, not the commercials.
Each year,I watch for a favorite. This year I had a few favorites. Perhaps it was because it was my son's birthday and I was feeling a bit sentimental, but my top three were all pull-at-your-heartstrings type commercials. Among my top three was the "So God Made a Farmer" ad for Ram trucks.
Like many Americans, I am only a few generations removed from a family of farmers. I still have family members living in Nebraska tending to the same land that my great-grandfather farmed. I've sat in their kitchens and heard the stories of droughts that ruined the crops that year.
But I don't think it was my handful of visits to the Nebraska farm that made me relate to that commercial. I think the reason I related to that commercial was because the commercial was about the value of hard work. And we all know something about hard work.
As we concluded the relationships series on Sunday, the message I heard over and over again was that relationships require work. They require a lot of hard work. Like farming, there will be times that our relationships require heavy lifting and physical strength. There will be days when you will be called upon to help a friend move, help a parent transition into an assisted living apartment or carry your teenage son up the stairs because he has broken his leg playing soccer. You will do all these things because of love. Like farming, there will be times when your gentler side will be called upon. There will be times when you kiss away an 'ouchy' on your daughter's knee after she's fallen off her bike, times when you reach across the couch to hold your spouse's hand, times when you sit silently next to an ill parent resting in a hospital bed. You will do all these things because of love.
Relationships are not a 40-hour a week job. You cannot take a sick day from a relationship. Everyday you wake up and you face the challenges that are ahead of you in your relationships. You do this because you love the people you are in relationships with. There are seasons of drought and seasons of great harvest. Paul Harvey's words about farmers were very poignant and thoughtful about farmers, but in terms of relationships, I'm reminded of something Jesus said:
"Greater love has no one than this: to lay down one's life for one's friends.'' John 15:13
I hope you have enjoyed the Sustaining Relationships series. I pray that the relationships in your life may be strengthened by what you have learned these past weeks. I know that the relationships in my life have.
If you missed any of the sermons from the Sustaining Relationships series, you can watch them here: Sustaining Relationships Sermons.
The post So God Made Relationships by Susan Ward appeared first on Today I Saw God.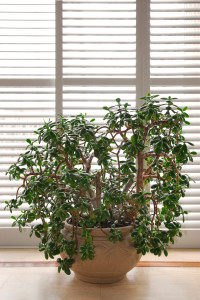 A word of advice, if you are going out of town and would like someone to water your plants don't call me. You will arrive home to a bunch of dead plants. This is because I have no clue how to keep plants alive. Saying something as simple as "water these," means nothing to me. How much water? Are we talking 8 ounces once a week or half a cup morning and night? Do I need to rotate the plant around to make sure it gets equal amounts of sunlight? And how exactly does pruning work?
It doesn't take someone with a green thumb to keep a plant alive, it just takes someone who is willing to put the effort into learning about the needs of a plant. Every plant requires different amounts of water and sunlight. It is through time and attention that one discovers how to care for a plant. If you cannot provide that to your plant, chances are the health of your plant will suffer.
Caring for relationships is like caring for plants. Each one of them is different. Some require more attention than others. It is only when we submit to taking the time to understand other people, when we discover how we can best care for them. Tim and I were blessed to attend the marriage retreat this past weekend. In our busy lives it was nice to be reminded of the importance of keeping marriage a priority.
Whether you are married or not, we all have relationships that are important to us. If I learned one thing this weekend it was that it takes intentional time and effort to keep the relationships that mean the most to us working right. As we grow as individuals and life happens we cannot expect the relationships in our lives to grow along with us unless we are paying close attention to them, making sure they are getting the proper nutrients they need to flourish.
Plants don't care for themselves. Neither do relationships. Both, however, provide great reward when properly cared for.
The post Are You Properly Caring For The Relationships In Your Life? By Susan Ward appeared first on Today I Saw God.