Today I Saw God
Worship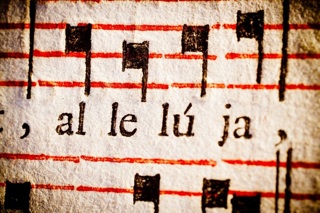 I had a great opportunity to attend a conference at Virginia Wesleyan College in Norfolk last week. The conference was about Sacred Music. There were more than 120 attendees who serve at churches as church musicians or pastors. They came from all over the U.S. The conference offered different courses related to sacred music and worship. Each day began with a music reading session for an hour with 12 unfamiliar or newly published anthems. We also had a rehearsal with a famous composer, Mark Haydes , to practice for a singing performance during the Wednesday evening worship at Great Bridge Presbyterian Church. Some of my fellow attendees were also singing at a Saturday night concert but I had to come home Friday night. I enjoyed the courses, especially the worship architecture classes with Dr. Constance Cherry who is a pastor, church musician, professor at Indiana Wesleyan College, and author of several books about worship. I was most inspired by her boldness in Christ, especially about worship. She taught us what to focus on in worship. She told us that worship is centered in God's acts of salvation, and that worship is a conversation between God and people. When we declare that we are His people and He is our God during worship, the covenant is renewed each time. Worship is Trinitarian in nature, it is transformational, and it is a journey.
I have thought about my worship. As a music director, I can easily forget why I am here and turn instead to tasks to check off during worship. I can get caught up with concerns about people and their responses instead of concerns about worshiping God. However, if I think only of God and worshiping Him with Spirit and Truth, I believe that those elements of worship will be there without strenuous effort. Dr. Cherry defined worship with a quote by Robert Schaper. He said, "Worship is the expression of a relationship in which God the Father reveals Himself and His love in Christ, and by His Holy Spirit administers grace to which we respond in faith, gratitude, and obedience."
I pray that we all come to worship to express our love and gratitude to God the Father, through Jesus Christ, our Savior, and with the Holy Spirit who helps us to respond in right ways. I am looking forward to worshiping God with all of you this Sunday.
The post Worship appeared first on Today I Saw God.