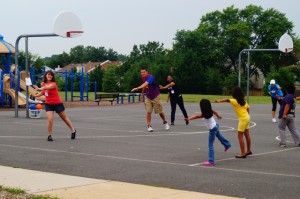 This is my first time volunteering at Camp Hutchison and it has been an incredible experience. We are in our second week of camp and we're having tons of fun. I am a counselor in charge of a group of 7 first graders called theSquirrels. On the first day of camp, the kids were very shy and hesitant to participate in activities and discussions. Now, these kids are extremely energetic, to say the least, but very eager to learn. It has been really fun getting to know each of them as I lead them to and from classes and activities.
We begin our day in front of the hilarious mascot puppet – Hutch. From there, my group goes to math and then to reading. After snack and recess, we have enrichment activities where we do something different every day. So far, we have been to music, recreation, art, science and drama.
Speaking of our mascot puppet Hutch, our group was in charge of coming up with one question to ask him this past Wednesday. During camp, we have been focusing on themes, such as friendship, respect and being thankful. It was pretty fitting when one of the students, Dylan, said he wanted to ask Hutch "Do you like your best friends? – Because I like my best friends too." However, the rest of my group wasn't really feeling that, instead they decided that they would rather ask, "Do you like carrots, chicken nuggets and Christmas?" I thought that question was pretty profound.
The teachers have made learning math and reading very fun for the kids. We play games involving dice, cards or the computers, all while learning addition in math. I have seen every single child improve in just two weeks! In reading, we read books about superheroes. All the kids wore the capes they made so they can use their super reading powers. The coolest power they got this week was the "super stretch" where they stretch out the word while sounding out each letter. Some kids who seemed a bit behind in their reading have had amazing improvement since using this 'power'.
Today, Cristophertold me a joke at lunch. He said, "What do you call a cow that plays the violin?" I thought about it for a minute and correctly guessed "a Moosician." I laughed and wondered where he got that joke. I soon found outAs I asked the kids to throw away their trash, I saw Cristopher had read the joke off of his milk carton and understood it enough to use the joke on me!
Camp Hutchison is a great environment for kids to continue learning during the summer and it is full of amazing kids like Dylan and Cristopher.
-Jeremey Montes
The post Amazing Kids at Camp Hutchison appeared first on Today I Saw God.