Camp Hutchison is a game changer. As Jake McGlothin, Floris UMC's director of serve ministries, has taught us this summer, game changers are the moments in our lives that radically shift our perspectives and the way we live. Camp Hutchison changes the hearts and lives of every person involved; students, volunteers, interns and planning team. It is a local mission experience. The program requires upwards of 100+ volunteers to run smoothly, months of meticulous planning, a partnership with Hutchison Elementary School and total reliance on the Hutchison office, janitorial, and Fairfax County Public School transportation staff. The children and volunteers all have good days and bad days, we each carry burdens and sorrows, joys and celebrations. It is only by the hand of God that we are guided through every day with patience and diligence. This program would not be possible, would not be successful, if God was not behind it.
Personally, I have been spiritually, physically and emotionally challenged each day this summer, and as each day adds up, the challenges are transforming me. My faith has been carved away into a simple theology, "We love because He first loved us" (1 John 4:19). This verse has always been one of my favorites; it points to the main tenant of the Christian faith, the Cross. I need no other reason to serve; I serve because He served me, and because He commands me to go and serve. I remind myself of this on the hard days, when working at a church means stepping away from the assigned task to be the Church for a day, whether that is a community grieving together, or a community celebrating together. This has been difficult for me, I am very task oriented, but this internship has shown me how important it is to be in relationship with others.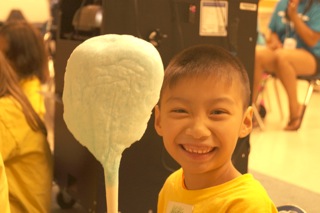 My experience this summer has also reinforced my passion for education. I know that this is exactly the experience that God intended me to have this summer and that He used every day to reaffirm my call to serve children. I am so grateful for the opportunity to be a part of Camp Hutchison and learn from the planning team and volunteers. I feel empowered to find a way back into a classroom and make it a home for students, a safe place, a place to explore and play and learn. In a classroom, I have the privilege and potential to change the lives of children; I can be a game changer.
– Mary Frances Roll
The post Camp Hutchison: A Game Changer appeared first on Today I Saw God.