Christmas Eve Offering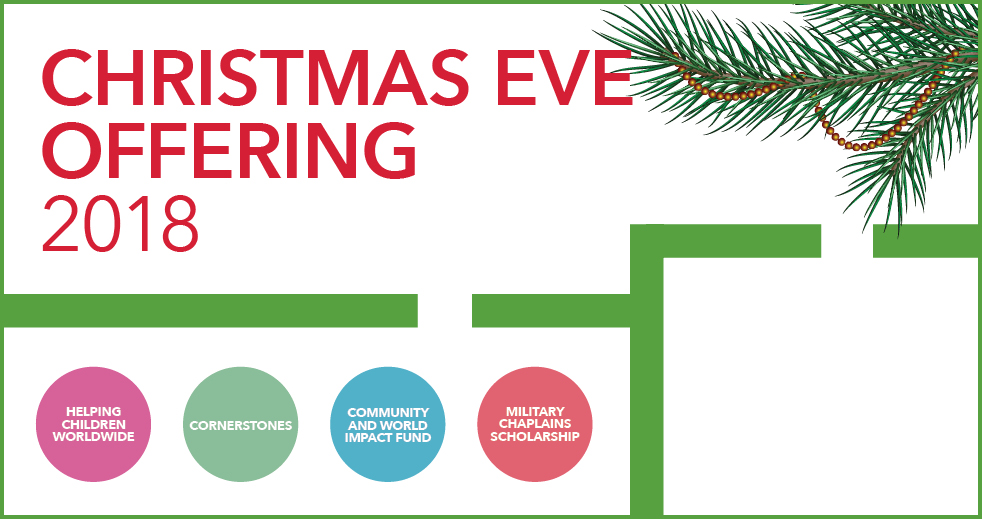 Christmas Eve Offering Total So Far: $
276,823.23
Advent season is when we remember and prepare for the birth of our Savior. Jesus Christ shows that God's restoring love is boundless and we are invited to be living examples of that same love. Our Christmas Eve offering is our response to God calling us to be instruments of change, representatives of hope, and the messengers of love and grace. Each year, through your generosity, every cent of our Christmas Eve offering enables our church to help the people in our community and world that need it the most.
Your contributions to the 2018 Christmas Eve offering will be sent to:
Helping Children Worldwide
Cornerstones
Community and World Impact Fund
Military Chaplains Scholarship
All donated funds will be sent to our ministry partners to help further the work that God is doing to transform lives and build better futures for families, individuals, and communities across the globe.
Helping Children Worldwide impacts communities in Sierra Leone through the Child Rescue Centre and Mercy Hospital. The Child Rescue Centre strengthens families through access to education, health care, family counseling and microfinance opportunities. Mercy Hospital helps to transform Bo and surrounding villages through two operating centers and new patient wards that provide prenatal and postnatal care, malaria testing and treatment and life-saving surgeries.
Cornerstones has built a reputation as one of the most high impact non-profits in Northern Virginia. Their strategic and holistic approach helps lead people out of homelessness into self-sufficiency and stability. Cornerstones provides support through a variety of programs that have a tremendous impact on the community. The Embry Rucker Shelter, the Laurel Learning Center, RestON and Connections for Hope are just a few of the ways that Cornerstones conducts transformational work for people and families in need.
The Community and World Impact Fund enables our church to respond to the needs of those that are in crisis. As we seek to continue to be a beacon of hope for our community, the CWI fund allows our church to minister to our surrounding community not just through prayers and presence, but with financial resources that make a difference.
Military Chaplains Scholarship will provide financial support to military service members who are enrolled at Wesley Theological Seminary and desire to become a military chaplain. Military chaplains are tasked with ministering to military personnel, their families and local civilians working in military-based operations. Wesley Theological Seminary in Washington, D.C. supports this cause by providing a course of study designed to prepare them for the demands of life as a chaplain.