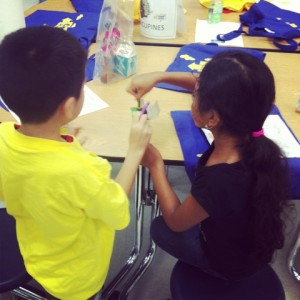 "So now I am giving you a new commandment: Love each other. Just as I have loved you, you should love each other. Your love for one another will prove to the world that you are my disciples".John 13:34-35
The first week of Camp Hutchison 2013 is coming to an end. I never thought that when I started this internship, in the middle of May, that this week would come and go so quickly. It has been quite the week and I'm so grateful for the experience, the volunteers and especially these kids. I wanted to write a blog post today to share with you all the power of God's love as it is demonstrated through our many volunteers. Whether it is being shown by an instructor helping a student learn to count by fives, a counselor listening intently at lunch about what the student's favorite activity was, or a snack volunteer providing seconds on fruit for kids, the attention and the love that is being shown to these kids is nothing short of remarkable. The start of Camp Hutchison brings so much more than the continuation of learning in these kids' lives. It brings volunteers together in a shared passion for extending God's love, it brings kids together in a safe and fun environment, and it brings us together as believers in Christ to love our neighbors as He loves us.
Submitted by Sarah Casey
The post Extending God's Love appeared first on Today I Saw God.