Editor's Note: Currently a team of Floris Missioners is in Haiti. We are blessed to bereceiving reports back from them about their trip. As the posts become available, we will post them.You can read about previous post here.
Submitted by Cate Conrad
We got an early start to the day so we could go worship with the community of Olivier Methodist church. Although we were looking forward to worshipping with the community of Yvon, transportation issues kept us in Petit Goave.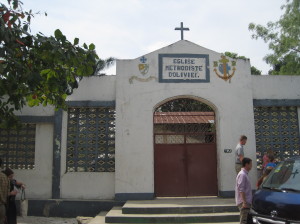 Worship in Haiti never ceases to amaze me, no matter where it is. Even though most of us don't understand Creole, we were still able to hear God's word through the music and readings. The community of Olivier gave us a very warm welcome with a few Haitian hymns. It was amazing. After the warm welcome, one of our fearless leaders (Karen) gave a lesson on John 6. You could tell everyone at the service liked what she had to say based on all the "amen's" they responded with. We finished the service with a very nice reception that included sodas and crackers.
Since today is our "day off" we decided to head to the beach after lunch. A few of us went swimming while others walked on the beach and collected shells. Sounds like a rough day, huh?
We are excited to head back to Yvon tomorrow to continue our work on the church and get to know the community. There was rain in the area today so we are hopeful the ground will be a bit more forgiving.
The post Haiti Mission Team #5 Fourth Post: Worshipping in Haiti appeared first on Today I Saw God.