Editor's Note: Currently a team of Floris Missioners is in Haiti. We are blessed to bereceiving reports back from them about their trip. As the posts become available, we will post them. You can read about previous post here.
Submitted by Joan Lynch
As promised, the roosters started cock-a-doodling sometime in the wee hours of the morning. The banter (it started with one in the distance and continued with others seemingly responding until the one perched outside our window felt the need to answer) continued on and off until it was time to get up. Welcome to Haiti!
Breakfast was planned for 6:00 AM as our transport to Petit Goave and Yvon were to arrive at 6:30 AM. We were told that an early departure was necessary so that our 2 hour drive didn't become a 4 hour drive because of traffic. Fully caffeinated we were ready to load up the bags, tools, ourselves, and our interpreters; Joseph, Carine and Angie. True to "Haitian" time we left promptly at 7:10 AM on a beautiful and not too hot morning for the 3rd leg of our trip. First lesson for a newbie: pack away your watch and go with the flow.
My mind is filled with snapshots of the different scenes that we passed on the ride to Petit Goave, where we will be spending our nights at Pastor Maude's house. It would be impossible to describe them all but I wanted to share a few; beautifully and brightly painted buses and tap taps, markets on the side of the road teaming with people, women walking with baskets or bowls on their heads, bright pink flowers cascading over cinder block walls, small pickups carrying people standing in the back and on the bumpers, donkeys carrying loads,mountains in the distance, large tropical trees, dry river beds and Merci Jesus, written on vehicles and buildings.
The plan was to check in with Pastor Maude, drop our luggage and head to Yvon, our worksite for the trip, to meet the engineer. Some of us wanted to make sure that Petit Goave was not home to tarantulas' as big as your head (more to come on that from someone who actually saw the monster.) We left a bit later than planned as we needed to wait for our transportation; a Toyota Land Cruisera big vehicle until you squeeze in 14 adults.
Yvon is remote. We traveled on paved, gravel, pitted, steep and winding roads to get to the site of the new Methodist church we will be working on. The crew had already started digging the foundation trenches but our tools had not arrived so we took a walk up the hill to see the original church that was structurally compromised in the earthquake. As we walked up the hill children and a few adults started to appear as out of nowhere so that when we reached the building there were quite a few to form our first introduction to the Yvon community. The church is beautifully situated on the side of the hill and boasts a view of Lake Miragone that rivals any view I've seen in Virginia. We asked why they would choose to rebuild rather than repair and the answer was simple; they need a bigger church.
Pick axes and shovels in hand we tried to make some contribution to the work that had been started. It took us only two hours to realize how difficult the task of building in Haiti is. The ground was so dry it was like digging through rock. We headed back to Petit Goave knowing that after our week is finished there will be plenty of work for other teams.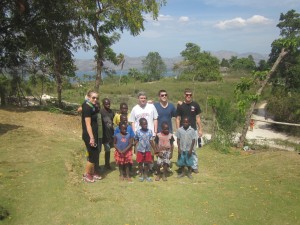 The post Haiti Mission Team #5 Third Post: Our First Full Day appeared first on Today I Saw God.