There is a feature on Facebook that allows you to see your 20 biggest moments in 2013. I'm a sucker for "Year in Review" montages so of course I couldn't resist the opportunity to see how Facebook would curate a year's worth of my content down to the top 20 moments of the year. I'm so happy I did.
Of course some the moments were things that I expected. My kids' birthdays and my anniversary were there. I gained a niece and a nephew this past year so my posts about them were mentioned as well. I enjoyed reliving those moments, seeing the excitement on my children's faces on their first day of school pictures. It was a virtual scrapbook, if you will, of 2013.
There was also an option to see the top moments from my friends in 2013. I enjoyed looking through those posts as well. There were some great moments in the lives of my friends. A few of them graduated college, or received advanced degrees. A few started new jobs or bought their first home. Many announced pregnancies and then several months later announced the birth of a new baby. One of my friends welcomed home her husband who had been stationed overseas for several months. Another friend celebrated all the paperwork being finalized in order to adopt a baby. Several friends posed at the finish line exhausted, yet smiling, as they completed a triathlon, marathon or some other intense physical challenge that I have yet to attempt. One friend announced her excitement at being sworn into the bar.
The posts were exciting and momentous. They were life moments so big and important that I am sure we would not need Facebook to remind us of, but it was nice that it did. However, every so often, there was a post about which I had forgotten. Scattered among the anniversaries and birthdays was a post that was unique.

For example, there was the post about my son scoring his first basket in a basketball game. I had almost forgotten how big his smile was after he made that shot. Another post I had forgotten about was the picture with just my husband and our twins in front of our house. It was just a normal day. I also posted a video clip of my oldest son telling me the story of how he scammed my daughter out of $5.00. It was hilarious but it was just an ordinary moment of the day. To be completely honest, I have no memory of the moment. If it weren't for that clip on Facebook I would have questioned whether it actually happened.
The amount of joy that I experienced from looking back on the year was incredible. The big moments combined with the small moments brought smile after smile to my face. It was time well spent.
Too often, we are busy focusing on the day-to-day activities and planning for the future that we leave little time to reflect on the past. In the hustle and bustle of daily life, we miss the joy in the little moments that are quickly forgotten.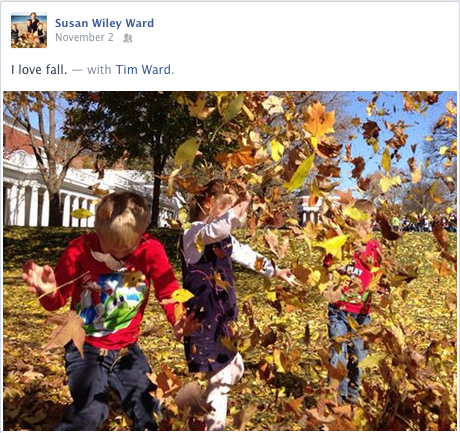 There are moments in our lives that we will forget to include in our annual Christmas letter (for those that still write them) because they won't feel significant enough. There are photos that won't warrant a place in the family scrapbook because they aren't documenting a significant life moment. But life is not a constant stream of big moments. Our lives are lived experiencing the ordinary moments that happen every day.
As we close out 2013, I hope that you will take time to reflect on these ordinary every day moments that filled your year. Smile when you remember the day your son wore shorts to school in 30-degree weather (and survived!). Take a minute to finally laugh about getting so lost on the way to that important event and ending up in another state. Be grateful for the new friends that were merely acquaintances in 2012.
Yes, there were some great milestones in 2013, but let us not forget about the ordinary, day-to-day blessings that carried us along the way.
The post Remembering the Ordinary Moments of 2013 appeared first on Today I Saw God.