Today I Saw God
Sermon Response: Joy and Love by Tim Ward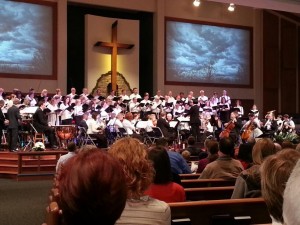 The tragic event in Newton, CT this past week has really forced me to contemplate some things. I remember when I picked up Jackson, a kindergartener, from school on Friday I just held him as tightly as possible. I looked at Nathan and Sarah and stared at them. I'm sure that they found this strange, but I couldn't help by think about the great gift that all three of them are to me.
This past weekend we heard the Cantata and as the choir and orchestra shared their gifts with us, they also shared the gospel story. They shared the gift that the birth child is to us. I was living in the midst of these two thoughts throughout the Cantata the great joy and blessing of my children and the great joy and blessing in the music.
By the same token, I have really been focused on Mary's Song from Luke 1. Mary has just received some of the strangest news anyone could ever receive. A messenger comes to her and says that she is to conceive a son named Jesus and he will be the Son of God. After digesting this initial news she offers the Magnificat.
And Mary said:

"My soul glorifies the Lord
and my spirit rejoices in God my Savior,
for he has been mindful
of the humble state of his servant.
From now on all generations will call me blessed,
for the Mighty One has done great thingsfor me
holy is his name.

His mercy extends to those who fear him,
from generation to generation.

He has performed mighty deeds with his arm;
he has scattered those who are proud in their inmost thoughts.
He has brought down rulers from their thrones
but has lifted up the humble.
He has filled the hungry with good things
but has sent the rich away empty.
He has helped his servant Israel,
remembering to be merciful
to Abraham and his descendantsforever,
just as he promised our ancestors."
Having all three of these things going through my head over the last weekend has been interesting. Where it has landed me all three of them is on the great love that Christ has for us that he was willing to become human. He was willing to enter and become part of this fallen world. I have seen a thread of joy as well. My children bring me great joy. The music brought me great joy. Mary's Song brings me great joy. Know that an incredible God loves you I know he loves me.
The post Sermon Response: Joy and Love by Tim Ward appeared first on Today I Saw God.