Today I Saw God
"Be strong and courageous. The Lord your God will be with you wherever you go." Joshua 1:9
I reminded myself of this verse as I started out my very first mission trip Thursday, May 24, 2018. I started out not knowing anyone at all on my mission team and I definitely did not have any construction skills to help rebuild houses in Virginia Beach affected by Hurricane Matthew in 2016. All I knew was that I wanted to serve others and learn from others who I met on this trip. I went in with an open mind and an open heart. I knew God was with me - that's all I needed.
What happened on this trip was nothing short of life-changing. I learned how to install flooring and use power tools. But, most of all, I learned about others on my mission team, the families we were serving, myself and God. My relationship with God deepened during this trip. I prayed relentlessly for God to convey his love through me so that others would be helped. I talked to the owner of one of the houses and it was so nice to relate to her and to form a bond with her. She thanked us so much for our work. When we completed one of the houses, I looked at our work and told myself, "I helped do that." I was in awe of what God did through me. I was pushed outside of my comfort zone and what happened? I grew and expanded to encompass a love for others and God beyond all measure.
God used me to do great things on this trip. I learned a lot about myself, too. I am capable of anything as long as I walk with God and pray for his power and strength to be revealed to me. My drive to serve God at all times was strengthened. I live for him and nothing less. This trip also helped me see that life is not about all the small details that we get stuck in and which make us lose focus on what truly matters. Life is about service, love, grace, forgiveness and letting God transform our lives into beautiful tapestries.
I now want to go on more mission trips and continue my love for serving others, learning from those around me, and listening to how God is speaking to me through his children.
I made a wrong turn on my way to a training session. Darn that GPS! It proclaims, "You have arrived!" just as you pass the turn. Thankfully, just up the road there was a big church parking lot where I could make a U-turn. On exiting the lot, I was greeted by this sign: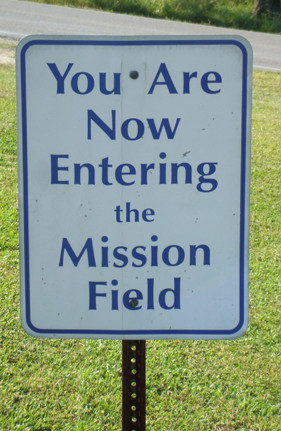 I let the car idle for a moment as I considered this. There, in my training shorts, shoes and sport shirt, was I really entering the mission field?
I have never actually been on a mission trip. Never stood with a group before the congregation to send me off to a distant land to build a church, or to a neighboring statethat has experienced devastation, nor even to the inner city to lend a hand to those living in poverty. Could it be that right here, right now, with my little training businessin my own community, I was knee deep in mission? Maybe I didn't need to go on a trip after all.
I wasn't exactly "called" to Fit2Finish. Not in a voice-from-heaven-that-insisted-I-go way. It's been more of a constant contact kind of thing. On this day, I was meeting up with Emily, a 16-year-old basketball player who'd had ACL reconstructivesurgery in February. We had already had several sessions, but this time we were meeting onthe basketball court of a middle school near her home. She had been cleared to return to play, but it would be my first time meeting her father, Roy, who was bringing her. He wasn't so sure she was ready.What'sso"missional" about this?
I have walked this road before, and it can get rocky in the space between a sporting kid delighted to have permission to return to play and the father who loves her so much that it would absolutely kill him to see his child injured again. (Incidentally, the mothers tend to do much better; it's more often the fathers who wince at the prospect.)
I put Emily through her paces. She runs, jumps, dribbles and shoots. She stops and starts, pivots and hesitates and drives the lane for a lay-up. Roy and I both shag balls as we watch, and I make a point to join him under the basket to hear what he's thinking. His reflective sunglasses prevent my reading his face for cues.
"What do you see?" I ask him. After all, he is the expert. He has been watching this kid since she toddled with a ball.
"How does it feel?" I ask Emily when she jogs over. After all, it's her body. She knows it inside and out.
I haven't said a word. Not offered any observations, made any corrections, agreed or disagreed with any statements made. I have just created the circumstance towatch and listen, as father and daughter hear each other out to discover their common ground.
On this sunny day in August, with a cool breeze blowing across the playground, things go smoothly. It's not always like this. Sometimesthere are undertones and misgivings, ushered in with angstand fear. Parents don't trust their kids. Kids are frustrated with their parents. Parents want to wait. Kids are in a hurry. Parents have expectations. Kids want to meet expectations, but they can't. Sometimes, it gets ugly.
I can't ever be sure how things will go, but it seems where I'm meant to be. "You are now entering the mission field." It's not exactly a "sharing the faith" kind of thing, but I am convinced that somehow,when I put on those training sneakers, I am standing on holy ground.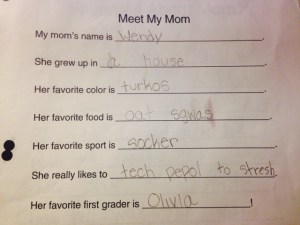 Funny, as I prepare to shuttle my own 18 year old off to Virginia Tech this week, expanding the space between us and leaving the proverbial "empty nest,"I will especially missher poignant observations about life. Often, just a few words captioning a drawing in a dusted off memory. In our cleaning out and packing, she pulled out a book that she made as a first grader. On the "Meet My Mom" page, she had written,"(My mom) really likes to tech pepol to stresh."
I do like to teach people to stretch. Guess I have been at this longer than I thought.
Teachingpeople to stretchtheir limbs, their minds, their lives; toward their goals, their dreams and each other. Now THAT is a mission field.Amazing how those wrong turns remind us.
This post first appeared on The Kinesthetic Christian.
The post Sometimes Mission is not so Far Afield appeared first on Today I Saw God.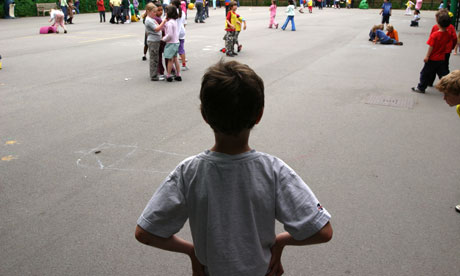 I am not brave, though I'm braver than I used to be. I am, however, afraid.
Barbara reminded us Sunday of just how many places scripture tells us to "be not afraid." Indeed,
"The Lord is my light and my salvation; whom shall I fear? The Lord is the stronghold of my life; of whom shall I be afraid?" ~Psalm 27:1
I had always thought if I was a good and faithful follower of Christ I should not be afraid. After all, why would I? If God is for us, who can be against us? So, whenever fear crept up on me, I felt like a bad Christian. Or at least one who was weak in faith.My Disciple Bible Study group this year helped me see this differently. They pointed out that God said "do not fear…" so many times because God knew we would be afraid. He just didn't want us to remain in our fear – because fear disarms us. Perhaps even disables us.
I used to see this in the students who came into my class to learn anatomy and physiology. There was much to learn and they tried to cram it all in. On test day, they would pore over notebooks and note cards. They'd be quizzing each other. They'd be asking and answering all therightquestions. They'd be looking up last minute details in their text books. Then I would hand out the tests. Immediately, their faces were frozen in fear. "Oh no, the test. What if I don't know…What if I get a bad grade? What if I get confused? What if…"Yep. Fear opens the door to the 'What if's.' And out that door flows our confidence and every bit of preparation we've put in.
God knows our capability and He doesn't want us to fail the test. I think that's why He told us over and over "do not fear." He knows the power of the 'what if's'.
I read an account this weekend of a young woman in that Colorado movie theater who dove to the floor out of the line of fire only to find herselfat the feet of the gunman. Round after round he fired sent scalding shell casings onto her body. She could not scream, or move or he would finish her. So she lay, in terror and in pain, silent. She lived. She was brave.
What do we have to fear?
Ironically, in the church I think we (and I mean we adults) are often afraid to share our faith. What if they ask us a question we can't answer? What if they are offended? What if they disagree? What if they point out an error? Funny, it may not be a faith problem but a 'what if' problem that does us in.
Thisoccurredto me as I watched nearly 70 students and chaperones spill out of their seats at the 9:15 worship service and assume their places in a line stretching the entire length of the chancel. They came to be commissioned on mission teams – 48 heading to New York to share their witness in word and presence and 19 to West Virginia to witness in word and deed. These young people were excited to be sent out. I could see it on their faces; they were not afraid.
It is amazing the difference between students who know they go with God and those who fear they go it alone. Our world is way too dangerous a place to go without God.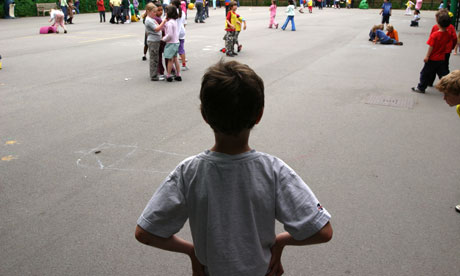 The post Sermon response: Love Casts out the What-if's ~ Wendy LeBolt appeared first on Today I Saw God.