Today I Saw God
We were having two days of intense winds, and I was worried about my neighbor's tree, a tall pine more than fifty feet high, and other trees in my yard.
My husband had gone to work, and I had the day off. I was still in my pajamas when I decided to move my car to the place where my husband parks his car. I was afraid that a tree branch in our front yard would fall on my car. I was barely back inside my house when I heard a rumble. I ran to the kitchen window and could not see the neighbor's pine tree. It had fallen! I opened my front door and saw my car buried under pine branches. I started shaking and a neighbor came to see if I was okay. He told me that he had just driven around the neighborhood and the only tree that had fallen was the one that destroyed my car.
It's incredible how everything can change in an instant. Nobody is exempt. A tree destroyed my means of transportation.
Jesus never said that we would escape trials or problems. On the contrary, He said in John 16:33: "I have told you these things, so that in me you may have peace. In this world you will have trouble. But take heart! I have overcome the world."
Our environment is full of pain, suffering and difficulties. Believers are not immune. An illness, unemployment, a divorce, an accident, abandonment, sexual abuse, depression or losing a loved one can change the course of our lives.
As believers, we are not free of problems or afflictions. How we differentiate ourselves from the rest, is the way face them. We do not concentrate on our difficulties. On the contrary, we see God working with us through these situations, and we are victorious because we are not alone facing our adversities. "I call on the Lord in my distress, and he answers me." Psalm 120:1.
The insurance paid me more than what I expected for my car and a new fence. "And we know that in all things God works for the good of those who love him." Romans 8:28.
If there are winds in your life that are disturbing your spiritual tranquillity, I challenge you to attend church, a source of nutrition for your spiritual hunger. Let's find refuge in the presence of the Lord. He is the only one who can calm our hearts in the midst of the storms of life. "And the peace of God, which transcends all understanding, will guard your hearts and your minds in Christ Jesus." Philippians 4:7.
Joy is not the lack of problems, but the presence of Christ in your existence! What do you need to change in your life to be able to feel joy in the midst of trials? "Praise be to the God and Father of our Lord Jesus Christ, the Father of compassion and the God of all comfort, who comforts us in all our troubles, so that we can comfort those in any trouble with the comfort we ourselves receive from God." 2 Corinthians 1:3-4.
---
Estábamos teniendo dos días de intensosvientos, y yo me encontrabapreocupadapor un árbol de mi vecino, un pino de más de cincuenta pies de alto, y otros árboles quetengo en mi jardín.
Mi esposo se había ido a trabajar y yo tenía el día libre. Todavía estaba en pijama cuando decidí mover mi auto al sitio donde mi esposo parquea su carro. Temía que una rama de un árbol en nuestro patio delantero cayera sobre mi auto. Acababa de entrar a mi casa cuando escuché un estruendo, corrí a la ventana de la cocina y no ví el pino del vecino, ¡Se había caído! Yo abrí la puerta principal y vi mi automóvil enterrado bajo ramas de pino, en ese momento empecé a temblar, un vecino vino a ver si yo estaba bien. Él me dijo que acababa de conducir por el vecindario y que el único árbol caído fue el que destruyó mi automóvil.
Es increíble como en un instante todo puede cambiar, nadie está exento. Un árbol destruyó mi medio de transporte.
Jesús nunca dijo que nos escaparíamos de las pruebas, ni de los problemas. Al contrario, Él dijo en Juan 16:33: "Yo les he dicho estas cosas para que en mí hallen paz. En este mundo afrontarán aflicciones, pero ¡anímense! Yo he vencido al mundo."
Nuestro entorno está lleno de dolor, sufrimiento, y dificultades. Los creyentes no son inmunes. Una enfermedad, el desempleo, un divorcio, un accidente, el abandono, el abuso sexual, la depresión, la pérdida de un ser querido, puede cambiar el rumbo de nuestra vida.
Como creyentes no estamos libres de problemas o aflicciones, lo que si nos diferencia del resto es la manera de afrontarlos.
No nos concentramos en nuestras dificultades, por el contrario vemos a Dios obrando con nosotros a través de estas situaciones, salimos victoriosos porque tenemos el alma saturada de Dios, porque no enfrentamos solos nuestras adversidades. "En mi angustia invoqué al Señor, y él me respondió." Salmos 120:1.
El seguro me pagó más de lo que esperaba por mi auto y una valla nueva. "Y sabemos que Dios dispone todas las cosas para el bien de quienes lo aman." Romanos 8:28.
Si hay vientos en tu vida que están perturbando tu tranquilidad espiritual, te reto a congregarte a la iglesia, allí se ofrece una fuente de nutrición para nuestra hambre espiritual.
Encontramos refugio en la presencia del Señor, Él es el único que puede poner calma en nuestros corazones en medio de las tormentas de la vida. "Y la paz de Dios, que sobrepasa todo entendimiento, cuidará sus corazones y sus pensamientos en Cristo Jesús." Filipenses 4:7
¡El gozo no es la falta de problemas, sino la presencia de Cristo en tu existir! ¿Qué es lo que necesitas cambiar en tu vida, para poder sentir gozo en medio de las pruebas?
"Alabado sea el Dios y Padre de nuestro Señor Jesucristo, Padre misericordioso y Dios de toda consolación, quien nos consuela en todas nuestras tribulaciones para que, con el mismo consuelo que de Dios hemos recibido, también nosotros podamos consolar a todos los que sufren." 2 Corintios 1:3-4.
As inspired as I always am after a Sunday worship, I always wait until Monday to respond to the sermon. The view is always different from Monday. Perhaps on no other Monday would I have said with such certainty 'What a difference a day makes!'
What I did this morning has nothing and everything to do with stewardship. I did check the time – 4:00am. I did check the property – no trees down yet. But mostly I checked in with family. Two kids home. One kid at college – had an email from the University president assuring me of preparations being made to insure safety. Two dogs safely sleeping. But the husband, well, he was supposed to fly into Dulles around midnight. You guessed it – flight canceled. So he is driving from Charlotte as the winds and rain mount.
I spent 2 hours, 49 minutes and 11 seconds, by my phone's count, on hold yesterday trying to reach a US Airway operator to see if we could get him booked on a flight that arrived closer to home. No go. "I'm sorry," the very sincere man with the island accent told to me, "Everything is full or canceled. We just can't control the storm."
"It's okay," I said, "I only know one man who can do that. Thank you for trying." The guy chuckled as if he knew this man, too.
That's the thing about storms. We can't control 'em. We can just watch 'em roll in. And watch and watch and watch. And then gather around us the things that are most important. Because, as the song says,
Sometimes He calms the storm
With a whispered peace be still
He can settle any sea
But it doesn't mean He will
Sometimes He holds us close
And lets the wind and waves go wild
Sometimes He calms the storm
And other times He calms His child
5:26am. Just got the text. My husband will be home shortly. I am feelingespeciallygrateful for such a simple thing: everyone is safe and accounted for.
I pray it is so for you and yours today. Peace, in the storm.
The post Sermon Response: Peace In the Storm ~ by Wendy LeBolt appeared first on Today I Saw God.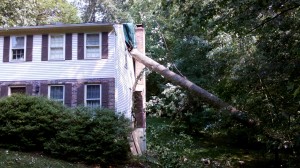 Yesterday, I had a great idea for the title for this blog: Powerless. That's what I was and how I felt – totally at the mercy of Dominion Power, while air temperatures climbed and food in the freezer melted. I just wanted to shout, "can anyone help me out here?!"
But we really were not facing much hardship at our house. We had water and a cool basement. And we could drive to places of relief – to shower and cool off and even to watch the soccer finals on big screen tv.
The thing creating greatest anxiety for me was the food in my freezer. It would spoil soon and I couldn't find anywhere with bags of ice left. (I'm glad I wasn't there to fight over the last available bag, though. That grocery store scene was a bit ornery, much like the mall parking lot – don't get between us and ourprovisions!).
But once I resigned myself to the notion that I could let go of that stuff in the freezer, everything changed. Some kind church friends invited us for dinner. And that, along with that ever-timely Tom Berlin, got me thinking about neighborliness. And about a family who live 100 yards from us whose house looks like this:
I'd never met them. Yesterday, I walked down the street to take a picture of their hardship and never even knocked on the door. My excuse? My power was out, too. What possibly could I do for them? But, armed with good-neighborliness, I stopped by on my way home from the unfruitful search for ice. A man, drenched in sweat, introduced himself as Jim Walters when he answered my knock on the door. He shared the amazing story of two close calls on Friday night, his near miss from the trunk through the roof and his wife's close call when the branch that skewered the siding drove through their family room and impaled a desk blocking the couch where his wife had fallen asleep.
"Neighbors took us in," he told me. "It was dark though, so I didn't know the extent of the near miss until the light of the morning."
I shared the reason why I had come. Asked if I could bring him anything from the store. He told me that many neighbors had stopped by – people he didn't even know. (I guess by now we were old friends :)) He asked where our church was. Even gave me permission to use these photos for the blog. I told him I figured God must still have big plans for him given the rescue he had just described. Jim had been too busy managing the damage to consider that. He assured me they had a place at the Residence Inn and thanked me for coming by.
And what do ya know. This morning at 3:38am my blinking alarm clock told me that Dominion power had plugged us back in. Really, our electricity is what came back online…and our internet, our phone, even our freezer. But, after hearing Jim's story I am pretty certain that the Power was there all along. The restoration company is working at his house to minimize the damage.
It just took a reminder from dear friends, in my time of need, how much power there was in neighborliness.
The post Sermon Response: Power Restored ~ by Wendy LeBolt appeared first on Today I Saw God.