Today I Saw God
We knew they were coming. The group of white supremacists had been issued a permit to gather in Lafayette Park, on this, the one-year anniversary of the "Unite the Right" event in Charlottesville. At their 2017 gathering, Heather Heyer, a counter-protester, was killed, while others were physically injured and their city was left scarred and deeply saddened. Now they were coming to Washington, D.C.
A call was initiated by the Baltimore-Washington Conference of the United Methodist Church to respond to the white supremacist rally with a rally of our own. I'd heard that there would be a group from Floris UMC going. Something inside inclined me to sign up.
Let's be clear: I am not a very brave person. I am no risk taker. I am not foolhardy. I have never stood before the barrel of a gun, never truly feared for my life, and certainly never placed myself intentionally in the presence of someone I knew would be spewing hatred, shouting racist epithets or chanting anti-Semitic slogans. (Heck, I don't even like the unruly crowds at Redskin games.) All of this swam in my mind as I boarded the Floris UMC bus to head downtown.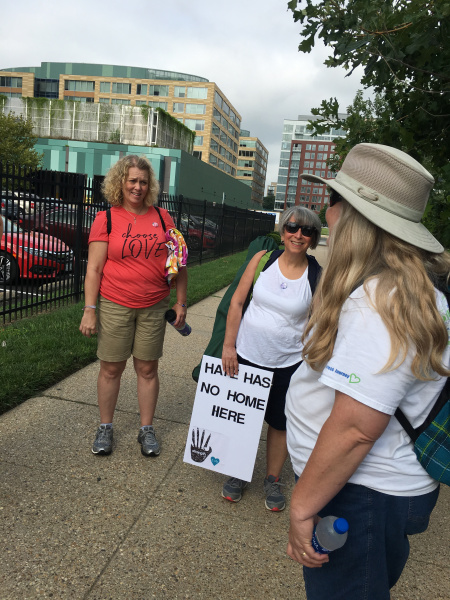 There were 12 of us on that bus: 10 courageous women, one pastor and bus-driver extraordinaire and me. During the ride down, organizers of our group delivered our "marching orders." In case we were confronted by hostile protesters or situations that posed harm, we were to defuse any altercations, assist anyone subjected to harm and were not to engage any form of hatred. Our job was to sow peace, the peace of Christ. But, just in case something untoward occurred, we arranged for an alternate meeting spot, shared phone numbers, and signed into event alerts. Maps indicating the nearest metro stations were distributed, just in case we couldn't get back to the bus.
This, you might imagine, did not assuage my fears. There I was, sitting in the back of a church bus, apparently headed straight into what might be harms way. I sat pretty quietly during that ride in spite of the lively chatter which surrounded me. This was a pack of peacemakers with a purpose! I was completely out of my league.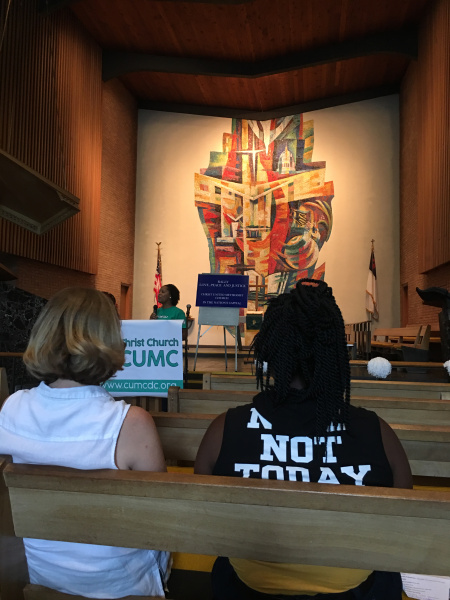 The plan was to collect for a pre-march pep rally at Christ United Methodist Church, so after Rev. Bob's miraculous parallel parking on DC city streets, we poured out of that bus and onto the sidewalk to head to church. First, prayer. Circling to hold hands, Sara Greer even convinced a group of kids walking our way to join us. All prayed up, we headed to church where we were greeted warmly, welcomed magnanimously and inspired by word, song and fellowship. They handed us a lunch – our last meal? – as we gathered behind the banner to begin our march.

Our police escort immediately surrounded us. They proceeded to stop traffic, so this little band — multi-racial, multi-ethnic, broad-ranging in age and mobility — could all find its way safely. As we spilled onto the grassy lawn of the mall, instead of the hatred, weaponry, and harsh words I feared, we were greeted by nothing but love. A beautiful stage had been erected right in front of the Capitol building, its banner announcing our common purpose: United to Love.

Kicking off this rally, Bishop LaTrelle Easterling told us, this was not a meeting of counter-protesters. In fact, it came about in response to a request directed to the bishop imploring her to lead the effort to deny the "Unite-the-Right-ers" permission to rally. "Absolutely not," she told them. "If we take away their rights, they will have the right to take away ours." Instead, we will rally under this banner. Not as counter-protesters, shouting down hatred, but as representatives of a force stronger than hate, because, as Dr. King said, "Love is the only force capable of transforming an enemy into a friend."
United to Love had a permit, too — for the mall, not Lafayette Park, thank goodness! I would not be standing eye to eye with white supremacists, but surrounded by love in all colors and denominations. Relief! I even saw a bit of humor in this. As we staked out our place on the grass, we were instantly dive-bombed by dozens of large flying bugs that resembled dragonflies. One in particular hovered so close to me and held me with such intent focus, I imagined him a dragonfly-drone collecting data on this new species of Invader. I waved a happy so-long, as he buzzed off.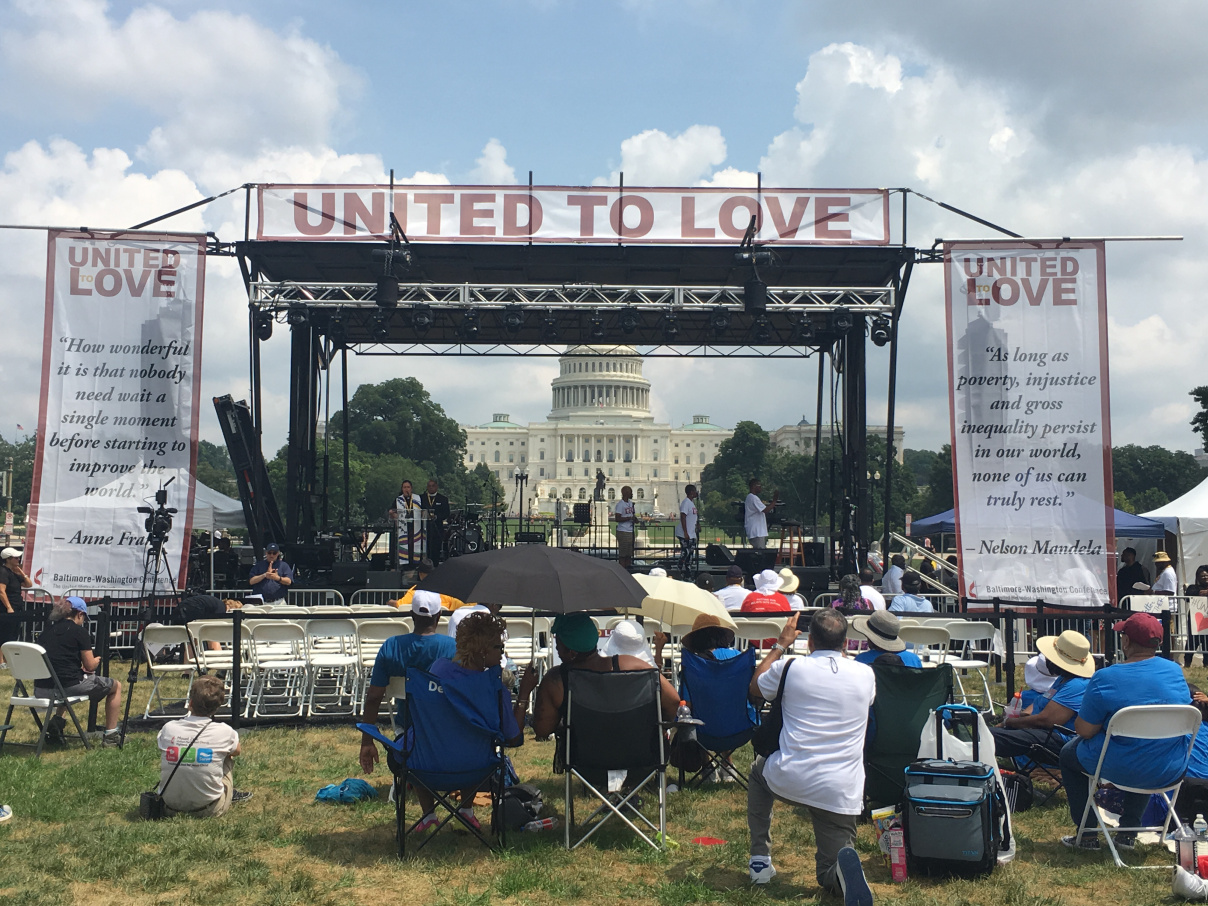 Then I settled onto a borrowed beach blanket to enjoy the spectacle: song and word, prayer and praise, fellowship and message. A rally it was, to God be every bit of the glory. Yes, we knew that hatred and bigotry was gathering just a few blocks from us but we couldn't hear them and we couldn't see them; it was only from news reports via digital media that we heard they were there. Instead we were focused on the future, on ways that moved us forward, on a path we could chart together. We, a diverse group of interfaith worshipers, gathered in support of our common humanity and each other. That, I felt sure, was not what was happening in Lafayette Park.
Then the funniest of thoughts creeped in. What if all the dragonflies really are drone-spies sent by the "Unite the Right" rally organizers to report on that "other rally" down on the mall? I wondered what they'd think of what was being shared here: messages of hope, commitment, and unconditional love, amid preaching and teaching affirming that we, in our diverse array, are each expressions of a God whose nature is love.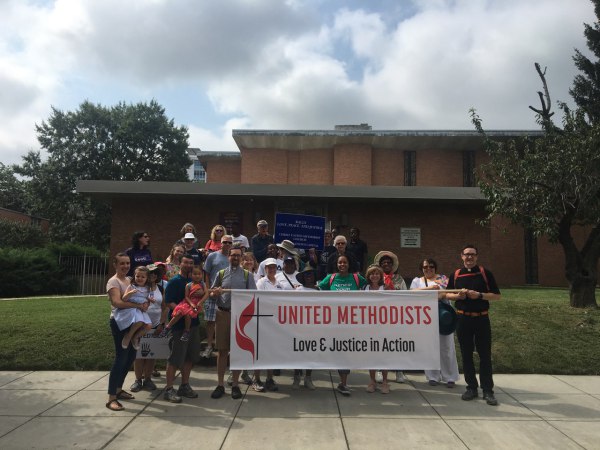 OK, now that I'm relaxed and amused and my life doesn't feel quite so endangered, this out-of-doors praising God inclines me to worship with a bit more abandon — to raise my hand in affirmation, clap my hands in rhythm and raise my voice in response. I'll be honest, I feel way more free to really worship here than I feel inside a Sanctuary on a Sunday.
Our times make it clear that now is the time we need to raise our hand when we see injustice and raise our voices to stand against it. From Micah 6, we take our marching orders… what does the Lord require of you?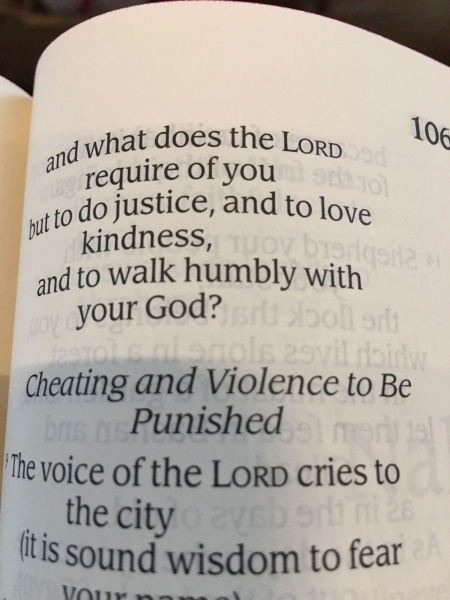 As I look behind me and scan the gathering of the faithful around me, a peace that passes understanding settles over me. The trepidation I came with is gone. No, I'm not a risk-taker by nature, but I'm no standby-er either. I rise to wander through and greet a few folks, but mostly to snap photos of the amazing expressions of God's mercy, love and justice, on display right there on the D.C. Mall.
How proud I feel to have marched behind the banner which is now draped over the fence with the Capitol building as backdrop. Midway through the rally, as the afternoon sun beats down on us, and most of the crowd have taken shelter in the shade to right or left of the stage (but not the hardcore like us!), Dr. David McAllister-Wilson, President of Wesley Seminary addresses those gathered. He wonders to us, What is Unite the Right? How are they right? He concludes that they have gotten it confused. Not unite the right, rather, unite the righteous. "Peacemakers who sow in peace raise a harvest of righteousness." ~ James 3:18
Many speakers refer to the distinction between our rally and that of "those gathered a few blocks away." It starts me wondering if our times are something like the day in another capitol city, Jerusalem, some 2,000 or so years ago when there were also two parades. Along one parade route people shouted Hosanna and waved palm branches, welcoming Jesus riding humbly on a donkey. Along the other rode Pontius Pilate, Roman governor of Judea, adorned in his imperial majesty. One rally peaceful, one rally proud. The peaceful not a counter-protest but a different message, entirely.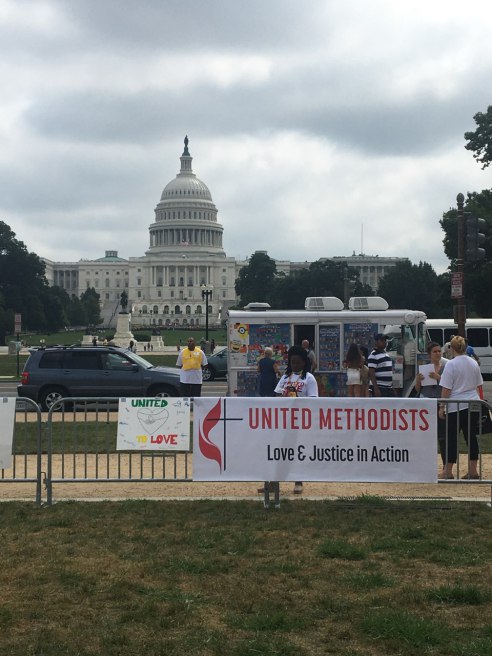 Sometimes, when we as people who are not brave, not risk-takers, and not particularly well-suited to diffuse differences or sow peace, let the God of love drag us up out of our pews into our nation's capitol on a Sunday, we are forced to see and hear what is going on in our day.
I marched and rallied on Sunday in order to magnify the message that Jesus reverberates through the ages: "faith, hope and love. But the greatest of these is love." Love is the eternal answer to the toughest questions of every age.
The question that remains: what will the followers of Jesus do with the message of love? We'd best be love.
If you're like me, you might scratch your head when you consider just how many Christian denominations exist. Sure, we might anticipate religious diversity throughout the world, but who could have anticipated such diversity within Christianity itself? Think about how many churches you pass on your way to work, or better yet, how many churches you pass on your way to wherever you worship on any given week. How can we explain such a wide array of expressions of a supposedly unified faith?
In my life, different circumstances have led me to meaningfully experience several Christian denominations. I grew up in the Wesleyan Church, began to own my faith in a Southern Baptist congregation, attended a college with an Anabaptist heritage and, while in college, connected with the Presbyterian Church in America, Assemblies of God, the Brethren in Christ and the Church of Uganda (with Anglican influence). Each of these experiences has shaped me and my faith in important ways, and I can appreciate various elements of each denomination listed above. As I was finishing college, however, I realized that my lifelong tour of Evangelical Protestantism had left me disconnected from a church I could call my home. I began searching for a place where I not only felt welcomed, but also where I could continue to dive deeper into God's love and grace in meaningful community. It did not take me long to find a place to belong in the United Methodist Church (UMC).
Before I learned much about what it meant to be United Methodist, two things in particular drew me into the Methodist connection. First, hearing of John and Charles Wesley and the core teachings of Methodist doctrine reminded me of language with which I was already familiar, having grown up in the Wesleyan Church. Rather than learning new vocabulary, I gained deeper insight and received more meaning from vocabulary that I already used (some of which I will discuss further below). Second, and most impressive to me, I appreciated the UMC's openness to modern thought and scholarship. Too often in my experiences, churches, pastors and many Christians I knew saw the extent of their interaction with the world as simply resisting the world's evils and waiting for God to fix everything in judgment. While the UMC still has a powerful prophetic witness against evil and injustice in the world, it also engages culture in a meaningful way, asking how our faith informs our interactions with science, sociology, biblical scholarship or other areas, rather than insisting our faith has nothing to learn from these fields to which countless women and men devote their lives with excellence.
But while these characteristics the UMC's Wesleyan heritage and openness to the modern world initially attracted me to the denomination, there was something deeper, something woven throughout the church's very existence that resonated not only with my mind, but also with my very soul. Methodists have a very unique way of describing their experiences and relationship with God, a phrase that John Wesley often called the "way of salvation." Unlike some other expressions of Christian faith, the Methodist expression emphasizes that one's salvation is not completed in a moment, but over a lifetime. Methodism tells a story, God's story, that is being written through all of history in which God invites us to participate. The story of our salvation extends far before and long after our conscious decision to enter into relationship with God. Something far bigger is going on, and that something is God!
The way of salvation is a compelling narrative that resonates with the human experience, allowing all people to acknowledge brokenness in their life, community and world and see how God's work in the past, present and future is making all things new. No matter where you are, where you've been, or what you've experienced in your life, God invites all into restorative fellowship with God's self, offering healing to all our brokenness and ailments, even those we didn't realize we had. Perhaps this theology will be as compelling to you as it was to me as you think about your life and your need for a place to belong.
God's preemptive action to reach out in love and grace lies at the heart of Wesley's way of salvation. When God shows us grace when we do not ask for it or realize our need for it, we label it prevenient grace, or grace that precedes us. Prevenient grace is God's gift to all people, allowing us to not only experience God's blessings without realizing their source, but also to use our own volition to seek and find God. We need grace to find God because our brokenness and self-centeredness prevents us from finding God on our own. This idea that all humans need healing from the power of sin remains consistent with traditional Christian teachings, and is central to the Methodist way of salvation. Amidst humanity's brokenness, God has intervened to allow all people to find new life in God.
Charles Wesley reminds us of this theme in his hymn, "Come, Sinners, to the Gospel Feast,"[1] where he writes:
"Come, sinners, to the gospel feast
Let every soul be Jesus' guest.
Ye need not one be left behind
For God hath bid all humankind.

Sent by my Lord, on you I call;
The invitation is to all
Come, all the world! Come, sinner, thou!
All things in Christ are ready now."
Though the language of "sinners" finds less common usage in our era, Wesley highlights these themes: God invites all people into relationship, and this invitation is not earned but extended freely. In a similar fashion, John Wesley calls our first encounters with God "the first dawning of grace in the soul."[2] This dawning for some comes as early as baptism, when even as infants, entirely dependent on others for our very life, God freely extends an invitation into the divine community and the local church even before we have any awareness of that sort of invitation. The act of baptism serves as one of the church's two sacraments, or ways that we tangibly receive and celebrate God's transforming grace. According to the Twenty-five Articles of Religion, a statement of core Methodist doctrine published at the onset of Methodism's distinct presence in the United States in 1784, baptism is the first sign of "the new life" offered by God in Christ through the Holy Spirit.[3] The beginning stages of Wesley's way of salvation emphasize that God is actively seeking us, even when we cannot or do not actively seek God.
Once we accept God's preemptive extension of grace, God pours out more in order that we can be freed from the guilt of our sin and begin living a life devoted to and restored to God. Many Christians place this moment of "conversion" at the pinnacle of one's experience with God; once you have been "saved," you will escape damnation and live forever with God in heaven after your death. Such an overemphasis on a single moment of salvation is absent from Methodist theology, for our experience of grace as our sins are forgiven is not the culmination of our journey with God, but the beginning. Charles Wesley describes this beginning in "How Can We Sinners Know?"[4]:
We who in Christ believe that he for us hath died,
We all his unknown peace receive and feel his blood applied.

Our nature's turned, our mind transformed in all its powers,
And both the witnesses are joined, the Spirit of God with ours.
For Charles Wesley, justification implies a beginning, a "turning" that makes humans right with God and sets them on the course of salvation. John Wesley articulates a similar understanding; as he reflects on the promise of God offered in 1 John 1:9, he identifies a singular moment of justification as the beginning of a salvation journey:
Now it is evident, the Apostle [John] here also speaks of a deliverance wrought in this world. For he saith not, the blood of Christ will cleanse at the hour of deathbut, it "cleanseth," at the time present, "us," living Christians, "from all sin". Neither let any sinner against his own soul say, that this relates to justification only, or the cleansing us from the guilt of sin. First, because this is confounding together what the Apostle clearly distinguishes, who mentions first, to forgive us our sins, and then to cleanse us from all unrighteousness.[5]
The journey with God that begins with justification allows a person's entire life to potentially be transformed by the Holy Spirit. This lifelong process works on multiple levels. On one hand, God works to form the inner self of each person in relationship with God, cultivating right attitudes and behaviors, or personal holiness. On the other hand, Wesley extended this holiness beyond internal spirituality to how one interacts with the world. Without a meaningful social holiness, Wesley would question the authenticity of one's salvation. This emphasis fueled the creation of general rules for gatherings of Methodists during the Wesley brothers' time, generally categorized as avoiding evil, doing good, and attending upon all the ordinances of God.[6]
The reality and possibility of personal holiness is best expressed in the Wesleyan theology of total sanctification, or the possibility of having love of God and neighbor perfected in a person in this lifetime. This theology affirms the power of God's grace over all evil in the world, including that which so directly affects our lives. Charles Wesley expresses this anticipation in the hymn, "O Come and Dwell in Me,"[7]
Hasten the joyful day which shall my sins consume,
When all things shall be done away and all things new become.
The journey of salvation is in fact a journey, but it is also key to remember that our journey to God is not necessarily linear. Circumstances arise in our lives that threaten the bond of peace established with God in our lives, and we can far too easily wander from the way God has intended us to live. While we often depict prevenient, justifying and sanctifying grace as different gifts offered on a linear journey with and to God, we actually experience the same grace in different ways depending on where we are in life. This theme emerges in one of John Wesley's sermons on the "Means of Grace," or, Wesley says, "the ordinary channels whereby [God] might convey to [people] preventing, justifying, or sanctifying grace."[8] God's grace, accepted and entered into, restores us to God's "[favor] and image," by God's "free gracenot by any power, wisdom, or strength, which is in [us], or in any other creature; but merely through the grace or power of the Holy Ghost, which worketh all in all."[9]
That's really what's at the core of this Methodist experience: God meeting us where we are and always having a place for us to go and grow. I know I'm still new to this denomination and my local congregation, but the idea that God wants to write our story into God's story simply captivates me. No matter where you are, God has something for you: grace. I hope that grace pours out abundantly in your life today, and may God hasten the joyful day when all sin shall be done away and all new things become!
---
[1] United Methodist Hymnal (UMH) 339.
[2] John Wesley, "The Scripture Way of Salvation," in Ted A. Campbell, ed., A Wesley Reader: Writings of John and Charles Wesley (Dallas, TX: Tuckapaw Media, 2008), 173-179.
[3] Article of Religion 17, in Ted A. Campbell, Methodist Doctrine: The Essentials, Rev. ed. (Nashville, TN: Abingdon Press, 2011), 120.
[4] UMH 372.
[5] John Wesley, "Christian Perfection," in Ted A. Campbell, ed., A Wesley Reader: Writings of John and Charles Wesley (Dallas, TX: Tuckapaw Media, 2008), 88-89.
[6] John and Charles Wesley, "The Nature, Design, and General Rules of the United Societies in London, Bristol, Kingswood, Newcastle-Upon-Tyne, etc." in Ted A. Campbell, ed., A Wesley Reader: Writings of John and Charles Wesley (Dallas, TX: Tuckapaw Media, 2008), 95-100.
[7] UMH 388.
[8] John Wesley, "The Means of Grace," in Ted A. Campbell, ed., A Wesley Reader: Writings of John and Charles Wesley (Dallas, TX: Tuckapaw Media, 2008), 105.
[9] Ibid., 108-109.
The post Why are You a Methodist, Anyways? appeared first on Today I Saw God.
Hola From Cuba,
We are here. Finally.Not that it takes so much time to get here like Africa or other remote locations.Just finally as in the moment we have all been waiting for has arrived.Months of preparation, anticipation, apprehension, all come together.As has been my experience, mission trips produce instant familial familiarity. That is, close quarters, a flat tire in the middle of nowhere, some sarcastic humor, some ribbing and teasing as we reveal our individual idiosyncrasies, and before you know it strangers are family. We have spent quite some time on the bus traveling to the eastern end of the island to visit our friends in Cabezo, where Floris has helped build the new church. What a joy to worship Cuban style. We met as old friends, picking up where we left off last. It is always such a joy to see first time travelers experience Cuban worship. A bit loud, exuberant, joy filled, uninhibited the spirit moves and takes over. We have several young adults on our trip and to see the wonder and engagement makes us all feel so full. The service was on a Saturday night and we are in the country yet the church was packed.Young and old. We are blessed.
The very next day we drove back westward to our final destination of Ciego de Avila. This is the first Methodist church in the city that will be built here. The pastor and his congregation meet in an old barn like structure. What a blessing this place will be to the community. I am reminded of some of our Imagine initiatives the young adults, programs for children, and of course a new campus in a new place that is lacking a Methodist presence. Monday afternoon a special kids program was held. 40+ children of all ages came. The excitement the team members had for sharing ourselves with the kids and the bonding that took place was so moving. The positive effects of people to people, culture to culture, dignity, respect and just plain old interaction but with Christ at the center effects everybody and everything. It isn't what we do, it isn't who we are, it isn't what we brought, it isn't what they get but who and what we are through Christ together.
This week we will work to pour concrete forms and lay the second story concrete roof. We can always be tied physically to this spot through that work. But this afternoon we get the honor of giving a sewing machine to the ladies of the church to start a sewing ministry and this evening with the young folks we are going to celebrate Christ in the park with music and fellowship between us all. We will by the end of the week have new friends and all our lives will have come together for this week in Cuba. Changed? Absolutely. Life altering change? Perhaps. The mission teams here have produced over 5 new pastors and more lay ministry than ever thought possible. Cuba, like home, is fertile ground with abundant fruit. How transformative it can be to be harvesters along-side our brothers and sisters.
Dios Se Bendigan,
Team Cuba
The post Finding Community in Cuba appeared first on Today I Saw God.