We were having two days of intense winds, and I was worried about my neighbor's tree, a tall pine more than fifty feet high, and other trees in my yard.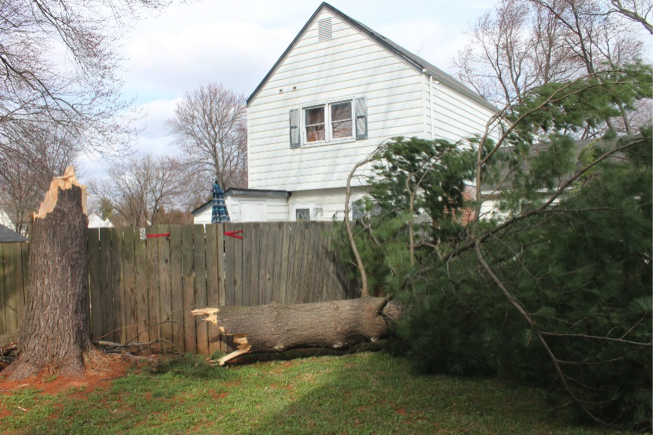 My husband had gone to work, and I had the day off. I was still in my pajamas when I decided to move my car to the place where my husband parks his car. I was afraid that a tree branch in our front yard would fall on my car. I was barely back inside my house when I heard a rumble. I ran to the kitchen window and could not see the neighbor's pine tree. It had fallen! I opened my front door and saw my car buried under pine branches. I started shaking and a neighbor came to see if I was okay. He told me that he had just driven around the neighborhood and the only tree that had fallen was the one that destroyed my car.
It's incredible how everything can change in an instant. Nobody is exempt. A tree destroyed my means of transportation.
Jesus never said that we would escape trials or problems. On the contrary, He said in John 16:33: "I have told you these things, so that in me you may have peace. In this world you will have trouble. But take heart! I have overcome the world."
Our environment is full of pain, suffering and difficulties. Believers are not immune. An illness, unemployment, a divorce, an accident, abandonment, sexual abuse, depression or losing a loved one can change the course of our lives.
As believers, we are not free of problems or afflictions. How we differentiate ourselves from the rest, is the way face them. We do not concentrate on our difficulties. On the contrary, we see God working with us through these situations, and we are victorious because we are not alone facing our adversities. "I call on the Lord in my distress, and he answers me." Psalm 120:1.
The insurance paid me more than what I expected for my car and a new fence. "And we know that in all things God works for the good of those who love him." Romans 8:28.
If there are winds in your life that are disturbing your spiritual tranquillity, I challenge you to attend church, a source of nutrition for your spiritual hunger. Let's find refuge in the presence of the Lord. He is the only one who can calm our hearts in the midst of the storms of life. "And the peace of God, which transcends all understanding, will guard your hearts and your minds in Christ Jesus." Philippians 4:7.
Joy is not the lack of problems, but the presence of Christ in your existence! What do you need to change in your life to be able to feel joy in the midst of trials? "Praise be to the God and Father of our Lord Jesus Christ, the Father of compassion and the God of all comfort, who comforts us in all our troubles, so that we can comfort those in any trouble with the comfort we ourselves receive from God." 2 Corinthians 1:3-4.
---
Estábamos teniendo dos días de intensos vientos, y yo me encontraba preocupada por un árbol de mi vecino, un pino de más de cincuenta pies de alto, y otros árboles que tengo en mi jardín.
Mi esposo se había ido a trabajar y yo tenía el día libre. Todavía estaba en pijama cuando decidí mover mi auto al sitio donde mi esposo parquea su carro. Temía que una rama de un árbol en nuestro patio delantero cayera sobre mi auto. Acababa de entrar a mi casa cuando escuché un estruendo, corrí a la ventana de la cocina y no ví el pino del vecino, ¡Se había caído! Yo abrí la puerta principal y vi mi automóvil enterrado bajo ramas de pino, en ese momento empecé a temblar, un vecino vino a ver si yo estaba bien. Él me dijo que acababa de conducir por el vecindario y que el único árbol caído fue el que destruyó mi automóvil.
Es increíble como en un instante todo puede cambiar, nadie está exento. Un árbol destruyó mi medio de transporte.
Jesús nunca dijo que nos escaparíamos de las pruebas, ni de los problemas. Al contrario, Él dijo en Juan 16:33: "Yo les he dicho estas cosas para que en mí hallen paz. En este mundo afrontarán aflicciones, pero ¡anímense! Yo he vencido al mundo."
Nuestro entorno está lleno de dolor, sufrimiento, y dificultades. Los creyentes no son inmunes. Una enfermedad, el desempleo, un divorcio, un accidente, el abandono, el abuso sexual, la depresión, la pérdida de un ser querido, puede cambiar el rumbo de nuestra vida.
Como creyentes no estamos libres de problemas o aflicciones, lo que si nos diferencia del resto es la manera de afrontarlos.
No nos concentramos en nuestras dificultades, por el contrario vemos a Dios obrando con nosotros a través de estas situaciones, salimos victoriosos porque tenemos el alma saturada de Dios, porque no enfrentamos solos nuestras adversidades. "En mi angustia invoqué al Señor, y él me respondió." Salmos 120:1.
El seguro me pagó más de lo que esperaba por mi auto y una valla nueva. "Y sabemos que Dios dispone todas las cosas para el bien de quienes lo aman." Romanos 8:28.
Si hay vientos en tu vida que están perturbando tu tranquilidad espiritual, te reto a congregarte a la iglesia, allí se ofrece una fuente de nutrición para nuestra hambre espiritual.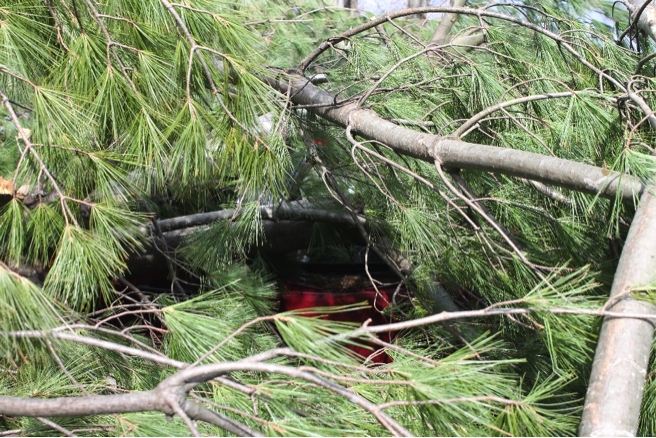 Encontramos refugio en la presencia del Señor, Él es el único que puede poner calma en nuestros corazones en medio de las tormentas de la vida. "Y la paz de Dios, que sobrepasa todo entendimiento, cuidará sus corazones y sus pensamientos en Cristo Jesús." Filipenses 4:7
¡El gozo no es la falta de problemas, sino la presencia de Cristo en tu existir! ¿Qué es lo que necesitas cambiar en tu vida, para poder sentir gozo en medio de las pruebas?
"Alabado sea el Dios y Padre de nuestro Señor Jesucristo, Padre misericordioso y Dios de toda consolación, quien nos consuela en todas nuestras tribulaciones para que, con el mismo consuelo que de Dios hemos recibido, también nosotros podamos consolar a todos los que sufren." 2 Corintios 1:3-4.