I love this scripture from John 4: 3-10:
3So he left Judeaand went back once more to Galilee.
4Now he had to go through Samaria.5So he came to a town in Samaria called Sychar, near the plot of ground Jacob had given to his son Joseph.6Jacob's well was there, and Jesus, tired as he was from the journey, sat down by the well. It was about noon.
7When a Samaritan woman came to draw water, Jesus said to her,"Will you give me a drink?"8(His disciples had gone into the townto buy food.)
9The Samaritan woman said to him, "You are a Jew and I am a Samaritanwoman. How can you ask me for a drink?" (For Jews do not associate with Samaritans.)
10Jesus answered her,"If you knew the gift of God and who it is that asks you for a drink, you would have asked him and he would have given you living water."
One of the paths that scholars and theologians take from this scripture is that of Jesus crossing boundaries. If you look at a map of Israel at this time, Jesus didn't have to go through Samaria. In fact, Jews and Samaritans didn't mix too well, and yet, that's where Jesus went. He didn't just go to Samaria, he also asked for water from a Samaritan woman.
Jesus was good at crossing boundaries.
I'd like to take a different view of this scripture by looking at it from the perspective of the Samaritan woman: You never know who you will run into.
You never know whom you'll encounter in your day-to-day life, even during your mundane activities. I don't think this Samaritan woman grabbed her bucket and said to her family, "I'm gonna meet the Son of God by the well! See ya later!"
You never know when you'll encounter a need. The Samaritan woman had a bucket for the well so she in turn quenched some thirst. She had the means and the courage to quench Jesus' thirst.
You never know what impact this encounter will have. As you read further into the text, this chance encounter had a huge impact on the Samaritan community.
You never know how the world can change by your actions. These actions don't have to be grand; they can be as simple as reaching into a well for water. Let me give you another example of this from an organization called the Karnofsky Project:
Mr. Karnofsky was a business man in New Orleans. As he made coal deliveries around New Orleans, his son and his son's friend rode the coal delivery wagon, helping Mr. K with the deliveries. Each day as they passed a particular store, the son's friend pointed to an old cornet in the window, a cornet he couldn't hope to buy but longed to play.

One day, Mr. Karnofsky stopped at the store, walked in and came out with the cornet. He handed it to his son's friend and told him he could work it off. The young man did and went on to play a pretty good horn. His name was Louis Armstrong.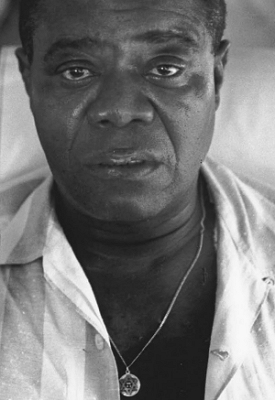 They say that Louis wore a Star of David for the rest of his life because of the generosity and love that he received from this family. I am not sure the Karnofsky's knew the impact that that purchase of a cornet would have on American music, society and culture, but it most certainly did.
And it goes to show, you never know. You just never know.
The post You Never Know appeared first on Today I Saw God.