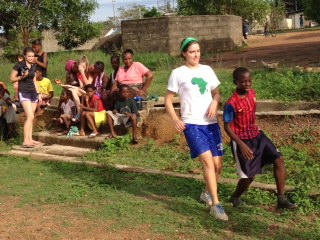 After the medical trip yesterday, it's hard to think or talk about anything else. It's safe to say that today was a much calmer day. The children were off school today, so the day was more relaxed than we have been used to thus far. There are about six of us who try to work out in the morning before breakfast and I have to say that not one of us woke up to our alarms this morning, which kind of set the tone for my day. After breakfast and quiet time, we walked over to Mercy Hospital's research center/laboratoryand talked to George and Rachid,who work there, about what they do and the accomplishments of the lab despite their limited resources. Bet you didn't know that the lab discovered the re-emergence of a virus called chikungunya, AND they have discovered two genes.
After that we had lectures from a panel. The first was about the education system in Sierra Leone (which models the British school system but has many problems due to poverty and lack of schools in villages, as well as the lack of a certification process for teachers). The second lecture was about human trafficking in Sierra Leone. That one hit me. It was so eye-openingto hear personal stories of how women will get tricked into giving up their children, thinking that they are sending them off for a better education, etc. while in fact their children are being trafficked, whether it be for child labor, prostitution, marriage, or the like. People here are so trusting, but they are taken advantage of so often because of it.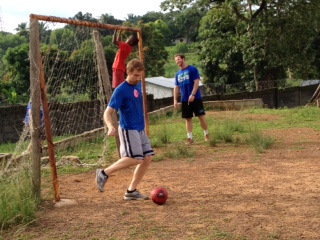 After that we had lunch and prepared for vacation bible school. We split the kids into teams and had games for them to play like throwing a Frisbee or running a relay with a balloon between your knees. They had lots of fun and a lot of team spirit. It started to rain toward the end, so we went into the dining hall. The Aunties needed something for the kids to do, so I volunteered to teach them songs I had learned while working as a counselor at a sleep away camp. The kids loved the songs and it ended up organizing the would-be chaos until the rain subsided. After that the older girls wanted to teach us songs, all of which were about God. Their faith truly inspires me.
We played soccer until dinner. Then it rained hard that we didn't go back to the CRC for vespers. Instead,we showered in our bathing suits inthe rain (yes, it really does rain that hard here), and then we had our devotional time. No one ended up being assigned to lead the devotional tonight, so we decided to go around and talk briefly (yeah right 2 hours) about what got us to the place in our spiritual life where we decided to come on this trip. It was great hearing everyone's stories. I can't wait to see what tomorrow brings and see the smiles on the kids' faces again. Their love never ceases to amaze me.
Submitted by Lauren Baker
The post You Showered Where? appeared first on Today I Saw God.