Today I Saw God
My Tribute
When I watched the video, "Today I Saw God" during the worship service last Sunday, my heart leaped for joy because I have had "seeing God" experiences lately. As you heard, I defended my dissertation last Wednesday at Indiana University. It has been a long journey since I came to the States with my husband, Jason, in 1996 to study music. For those who don't know Jason, he is also a musician, singer and has been "ABD" (All But Dissertation) for a long time like me. We both started our music experience in the same choir when we were little. Jason started singing in the church choir in second grade, and I joined the choir during the second year of middle school. We were very close friends in the same choir, and went on to study music at the same college. We both became soloists. We were serious Christians and musicians wanting to serve God with music whenever we had a chance. I dreamed about coming to the States to study since I started my first voice lesson at age 13. Even though my dad did not want me to go on as a professional musician, I believed that it was my calling from God to glorify Him through music.
Studying abroad is not an easy dream to pursue even though some people can do so with financial support from their parents. For me, it was not that easy. However, God has been faithfully providing scholarships and jobs to keep me going on the journey. There were a number of tearful days and nights but God never let me give up finishing this journey. While visiting Bloomington, Indiana where we lived for 12 years as full time students, God showed me His presence to reassure me that He was the one who made my dreams come true. He is the one to be praised! It was an amazing five days to see how God has been working and providing for me.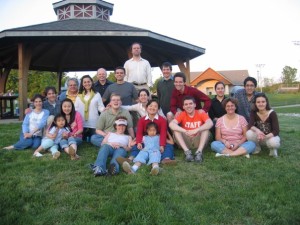 I don't have good writing skills to share all of this in detail, but I would like to share what God has shown me. First, He showed me His faithfulness through where I kneeled. There is a Korean United Methodist Church nearby the campus where I went to pray each morning. I realized it was not me who prayed, but the Holy Spirit who woke me up and encouraged me to kneel and seek Him and His help. What a blessing! Second, He showed me His love through people who have loved me dearly. As a foreign student, it is not an easy step to make American friends. However, there are now a number of them whom I could call in the middle of the night to say, "I need your prayers" without any hesitation. They are truly my extended family in Christ. I can feel God's presence in their bear hugs and glowing smiles whenever I meet them. Third, God shows me what I need to truly seek. Earthly things including degrees, certificates, or titles, all will be gone when we go to Heaven. It does not matter who has more degrees in heaven. So, I need to seek His kingdom and righteousness for good. I pray deeply that He uses His gifts given to me for glorifying Him only, and that people could see His glory through my effort and work. A person said, "Christianity is not just Christ in you, but Christ living His life through you." I have prayed fervently to God that I live like a His real daughter and that whoever sees me recognizes who my Father is.
I have found a song that describes my grateful heart for His faithfulness, love, and vision throughout those years. I hope you enjoy these lyrics.
"My Tribute!"
How can I say thanks for the things You have done for me?
Things so undeserved, yet You gave to prove Your love for me;
the voices of a million angels could not express my gratitude.
All that I am and ever hope to be, I owe it all to Thee.
To God be the glory, to God be the glory,
To God be the glory for the things He has done.
With His blood He has saved me, with His power He has raised me;
To God be the glory for the things He has done.
Just let me live my life, let it be pleasing, Lord to Thee,
And if I gain any praise, let it go to Calvary.
With His blood He has saved me, with His power He has raised me;
To God be the glory for the things He has done.
-Yoon Nam
The post My Tribute appeared first on Today I Saw God.