Today I Saw God
Philadelphia Mission Trip Day Two
Today we started the day off by doing a devotional about relationships and interactions with other people. As usual our group slept in the van on the way to our first site, so we had no idea how long we were driving and where we were going. We put our lives into the hands of our fearless leader Steve; he always takes charge and gets the job done. When we got out of the van we were each handed a dollar and tasked with feeding ourselves and also feed some homeless people we ran into on the street. After hours of walking around looking for the best bargain, Sean (the young, rookie leader trying to prove his worth to the team) made the executive decision to purchase cheap pretzels that we found. Turned out to be a great decision by Sean, our stomachs were full and we managed to feed a homeless man in the process. We finished the day by putting together bags of food at the fellowship house. We had an exhausting day, but it always feels good to serve.
-John Macdonald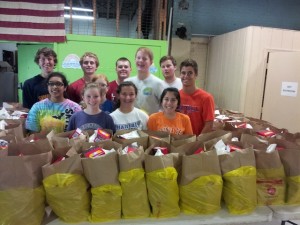 Today we jumped out of our comfort zones, not stepped, jumped. We started the day by splitting in to two groups of five and given five dollars and released onto the streets of Philadelphia with a map and basic instructions and a leader. We were told that we should explore the city and feed ourselves and a homeless person. My group included John, Austin, Dan, Sarah and our leader Sean. We started by going to a free library and checking out 3D art and interesting books. Then we walked around the streets and explored the love fountain park. After exploring the streets some more, we came to the realization we were very hungry. So we started looking at hot dog stands and stores but everything was way out of the budget. We were starting to give up hope until we saw a lady with McDonald's. We quickly ran to the location of the anticipated food but greatly disappointed to find out there was no dollar menu. So we went to the next store to happily find a deal on pretzels so we ended up with 12 pretzels which we scarfed down within 10 minutes. We decided to give one to a homeless person. We found a man sleeping on a bench so we decided to leave him a surprise of lunch waiting for him.
After we finished our exploration of Philly we went to a center for help called Fellowship House. We were given the responsibility of making 75 bags of food for the less fortunate. We did this rapidly fast. We worked like a family and completed it in about an hour to get products, organize, and bag them. Later we came back to church and cleaned the block around the church. Then we got the famous Philly cheese steak, which was really good! I got an American cheese even though my dad previously urged me to get wiz. So over all we had a great day where we worked well together as a team and overcame challenges in our way while getting closer to Jesus. And I have been told that Matt, Sam, and Baylor are pretty chill!
-Katie Martin
Today we first started out meeting at the movie theater to see Coralline with four to seven-year-olds. During the movie, we kept an eye on the children so they would not disturb other people in the theater. After the movie was over we went back to the church to eat lunch and changed into our long pants for the next activity. We went to the senior center to walk and help serve the ice cream. I was chosen to pass out and collect orders for the ice cream with Brady and Sam. I saw God in the smiles of the elderly which was amazing. I've never seen so many people so happy for getting ice cream before. I will not forget this day.
-Michael Manduke
P.S. John Hewer would like me to give a special hello to Michelle and Joel Hewer!
The post Philadelphia Mission Trip Day Two appeared first on Today I Saw God.