[Editor's Note: This week, several high school students from Floris UMC are in Memphis, TN with an organization called Service Over Self (SOS). While in Memphis, they will be doing inner city mission work such as working on homes, serving at soup kitchens and helping out at food banks. This week we are sharing some of the stories from students participating in this trip.]
Today I was woken up at 6:30 by the song Sweet Home Alabama being blasted through the halls. After a breakfast of sausage, potatoes and peppers, I expected to be de-shingling all day like we did yesterday. However, about two hours after we began it began pouring (apparently a normal occurrence in Memphis). Our group, led by Ashley Allen, set out to find Memphis BBQ. We brought along our homeowner and her fourteen year old granddaughter. It was interesting talking to our homeowner about her struggles in life and her faith. A few years ago she broke her knee and her doctor told her she would never walk again. She told us "They didn't know my doctor. You know my doctor? I have Doctor Jesus." When we returned from lunch, we intended to get back to work after a short devotional, but instead we spent the time talking and getting to know each other and our homeowner. I was inspired by the testimonies of both of my leaders. I'm super excited to go to chapel tonight and learn more about how God needs to be greater in our lives and we need to be less.
-Emily Tillett
At our worksite today Casey, David, our leader Taylor and I got on the roof and put shingles on the roof of Mr. Charles' home. We have almost re-shingled half of the side we are currently working on. God gave us beautiful weather today to allow us to get lots of work done on our roof. We had a slight mishap and our tarp leaked and caused some of the drywall in one of the bedrooms to fall through. We didn't foresee this problem, but with God's help we were able to clear the debris and were provided with extra workers form one of the other worksites which allowed us to work on the drywall problem and be able to have the maximum amount of people on our roof to shingle and still have some people to flex and help wherever they were needed.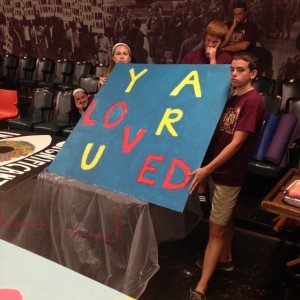 Today was our half-day, so we ended our work in the community and got to go on a prayer tour and see St. Jude's and the Mississippi River. We also went to Frayser, one of the highest crime rate cities in Tennessee and one of the more poverty stricken communities in Tennessee. With God's help, people have started healing in this community and I hope it continues to grow with our work and with the work of others who come after we leave. God also was with our group today as we went to the Caritas Village Community Center. We had the wonderful opportunity to paint boards to be placed in the community and used as public art to help revitalize the community.
-Nick Mitchell
This week my work group has been working to repair Ms. Betty's roof. Ms. Betty only has one kidney and has to go through dialysis every Monday, Wednesday, and Friday and is not able to take care of her yard and house very well. It has rained every day, except for today, so we have had to cut our work short. Even though this has caused us not to be able to get a lot done it has provided us with the opportunity to get to know our homeowners. This has benefitted both the homeowners and us. One of the big themes throughout this week is relationship and the rain has blessed us with the opportunity to help and build on those relationships.
Another theme this week is the verse John 3:30 "He must become greater and I must become less." This has really caused me to humble myself. This verse makes me think of everyone here and how they always put service over self and how they are putting themselves and God above them. This verse also makes me think about Ms. Betty in how she has gone through so much, yet she is so thankful for the fact that we are there for her and are willing to do this service for her.
My theme this week is you are a princess (or prince). You are a princess because you are the daughter of the greatest king ever. Also Pastor Terrance talked about how we are all created special and we are all created in God's eyes. Princesses are one of a kind people and they don't take "nothing from nobody". We are all royalty in God's eyes because we are special and created for the purpose of telling others about how we are princesses. So my challenge to those who might read this is for everybody to go out and tell one person every day that they are a prince or princess and tell them why.
-Emily Heier
The post Becoming Less appeared first on Today I Saw God.