Today was the day! After almost 48 hours of travel throughairports, baggage claims, and on buses we have successfully arrived at the MTC (Missionary Training Center). Throughout our two days we have already had wonderful experiences that are sure to only become better.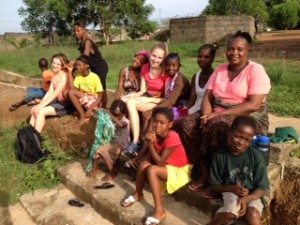 Yesterday evening we landed in Freetown after circling the air for multiple hours due to a thunderstorm. When the storm calmed downthe planelanded andall 19 bags and 11 team members were successfully loaded onto the water hovercraft as we traveled across the peninsula until we reached the center of Freetown. Greeted with warm welcomes and a delicious meal, we had a nice rest at the Kona Lodge.
This morning we all got an early start and ate yet another delicious meal of sweet breads, hot dogs,and fresh fruit to fill us up at 8 a.m. before beginning the car ride into Bo. Traveling through the downtown city of Freetown was eye opening. The city was filled with so much life, hustle, and pride. Between dodging motorcycles and passing bysmall shops,it took us nearly anhour to pass through the city. Once we were on the open road of the country, a refreshing breeze and spectacular sights surrounded us. Forests of palm trees and tall grasses hugged the sides of the road. At every bend and curve of the pavement we were met by picture perfect scenes. With about an hour left of our 5-hour trip we stopped at a local market where we bought delicious breads, mangoes, bananas, and pineapples by the dozen.
Although the fruits were sweet and refreshing, nothing was more satisfying than arriving at the MTC after a long car ride. Once we toured the spacious place where we will be staying we walked over to the CRC (Child Rescue Centre) and were welcomed with endless hugs and hand holding by the amazing staff and children. I have never encountered such pure joy and love before.Fifty children coming up to meet you, and not leaving your side, was a welcome thatI will never forget. The children are so peaceful and happy that it was amazing to feel so loved. The "Aunties" and the children took us on a walking tour of the compound for about an hour before Fudia fed us a delicious meal of rice and spicy peanut chicken.
To end the evening on a perfect note we walked back over to the CRC for the children's "vespers." During this time the children gather in the great room to sing and dance and pray. The children were praising God with song and dance and it became contagious. You couldn't help but to join in and be filled with the utter happiness that was in each of the children and Aunties. It was one of the most amazing things I have ever experienced. All of the children singing and smiling at once, it seemed as though God was in the room singingwith us. The children then prayed before we had to leave. Walking out of the compound all 11 team members had children dangling from our arms to guide us back to the MTC. After all of the travel, seeing their bright faces made each minute worth it.
From Matthew 25:40 "The King will reply. 'Truly I tell you, whatever you did for one of the least of these brothers and sisters of mine, you did for me'." Please keep theteam and me in your prayers as we begin our projects tomorrow knowing that when we serve others we are serving Christ.
Submitted by Allie Broadus
For insights and thoughts from Reverend Tom Berlin, follow him at revtomberlin.com.
The post Day One at the CRC, Bo, Sierra Leone appeared first on Today I Saw God.