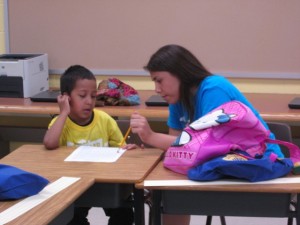 We are quickly settling into a routine here at CampHutchison.Compared to the first day, Command Central is much calmerwith everything set up and running smoothly, the camp's organizers are pretty much sitting back and letting everything run by itself. That's not to say there isn't still work to doattendance records don't fill themselves out, equipment needs to be moved and installed, substitutes have to be found for absent volunteers, and of course the runners have to be ready for any unexpected situation. Even so, there is a noticeable difference between the first day and today.
I spent today with the Chipmunks, a group of third graders.They have a lot of kids, many of them boys, and two teenage girl counselors. Having a male role model sometimes helps keep the boys from getting too rowdy. Every day the kids go through three classes: Reading, Math, and Enrichment. Enrichment class today was a music lesson involving dancing. Trying to get the older boys to join in was like trying to get cats out from under couches after they've had their tails stepped on. Eventually most of the boys joined in. There weren't any difficulties in getting them to participate during recess. The kids love to run around and play with their counselors, chasing them in games of tag and daring them to do silly things or something else embarrassing.
It looks like everything is under control, and the kids are engaged in all of the activities. There's a lot of learning going on, and not just for the kids. The counselors and instructors are learning a lot, too: how to reinforce positive behaviors, convince children to cooperate, and to discern the motives behind their campers' mischief. By the time this camp is done, the campers won't be the only ones who'll be exhausted and filled up with new knowledge.
Submitted by Ben Potts
The post Filling Up With New Knowledge appeared first on Today I Saw God.