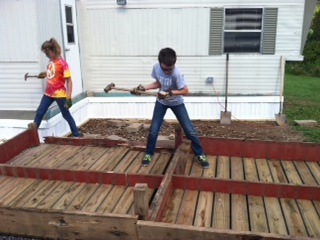 Today was Monday and the first day of work at Jeremiah Project. At first, I was really nervous about my work group. Though in the past I have had grand experiences with my group, I tend to be nervous when meeting new people. There was only one person in my group that was from my church, and I didn't even remember the names of the others. However, as soon as we got into our van, I could tell we all had chemistry.
Our work assignment today involved washing the outside of a trailer and digging post holes. I was wearing the jeans that I wore last year, which were covered in silver seal. It was a reminder of last year, and I was thrilled for today. The day got even better when we noticed a five-year-old girl named Penelope who was more than willing to help.
We ended the day with a Blizzard from Dairy Queen and dinner. Dwayne gave an amazing message. It was relatable and obviously well rehearsed.
Quentin wrapped up with music, and you could hear that even the shyest person was singing.
– Emily Tillet
The post First Day at Jeremiah Project appeared first on Today I Saw God.