Editor's Note: Early this morning, a team of missioners from Floris UMC left for the fifth Floris Mission trip to Haiti. Throughout their trip, the team will be sending blog updates about their trips. We will be posting those updates as they become available.
Submitted by Dave Redding, Team Co-Lead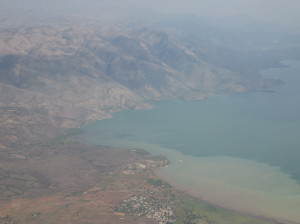 As we sit here on our layover at Newark Airport we are preparing for Floris UMC Haiti Mission Team #5 to Yvon, Haiti. It's a good time to reflect on Floris' journey in our Haiti UMVIM mission over the past three years since the Earthquake in 2010. I was asked to lead Team #1 in March 2011 based on the fact that I had previous Haiti experience and was unfortunate enough to have been in Haiti at the time of the magnitude 7.0 earthquake.
At the time I could have never imagined how a new mission at Floris would generate such incredible support from the congregation in the form of finances for mission costs and participation of dedicated volunteers, many of them returning to Haiti two and three times. In addition, many volunteers have been inspired to become UMVIM leaders and have led or co-led other Floris Haiti Mission Teams on their own. Now I am privileged to co-lead, along with Karen Berlin, another wonderful group of Floris volunteers to Haiti.
Many of our team members are college students that are trading their Spring Break time on the beach for construction work on a new church in Yvon. I know I would have never even thought about mission work when I was in college. It's going to be great to serve again with Haitian Methodists in reconstruction and to see their cheerful service to God in face of all their challenges. As someone said long ago "We need Haiti more than Haiti needs us." Ain't that the truth
The post Haiti Mission Team #5 – Departing for Haiti appeared first on Today I Saw God.