The Floris UMC Haiti Mission Team Seven (consisting of co-leaders Karen Berlin and Dave Redding, along with Tracy Saunders, Mary Chamberlain, Jen Williams, Jon and Karen Connell, Patti Schule, Bill Meade, Maddie Sobol and Kate Hoing) returned in March of 2016 from an amazing trip abroad. This group consisted of seven members who have been to Haiti before and four new adventurers. Traveling early on March 11, they spent a week in Hermitage, a tiny village in southwestern Haiti.
The Hermitage Project commenced over 10 years ago on land purchased by the Methodist Church. It was the dream of a Pastor Lebrun Corsiare, district supervisor of the zone in which Hermitage is located. He had the vision to see the land and envision a church, a school along with future hopes for a dorm to house teachers, a home for the local pastor, a medical clinic and clean water for the village residents. Today, as hoped for, the water is piped from a local stream for the local residents. The modest sky-blue concrete church is complete as is the skeleton of the school for the local children. It is functional and usable but needs some structural supports to make it long-lasting and of better use for all. The Floris UMC Haiti Mission Team's work was to begin the school transformation.
This daily account was constructed daily by various members of the team and reflects their personal views of this trip.
Day One – Friday, March 11, 2016
Our trip started out at the Dulles airport at 4:30 a.m. Earlier in the week, we had met to consider what donated items we were planning to bring to Haiti and filled six trunks and several large duffle bags with these items. We traveled first to JFK and then directly to Port-au-Prince, the Haitian capital, safe and sound. Jackson, the one-armed driver, met us outside of customs and ferried us to the Methodist Guest House in Petionville, just outside of Port-au-Prince.
Upon arrival, we received an orientationbasically the list of rules to follow while in Haiti. Number one: don't drink the water. Number two: don't put toilet paper in the toilet. Number three: you are on island time, which is plus or minus two hours but never early so forget the minus. And number four: be flexible!
Imagine a schedule that allowed two hours either way to get things done in our "go, go, go" Northern Virginia lives! My sense is that it might not work in our busy lives in the U.S., but while in Haiti, we put away our watches and just lived for the moment. And somehow, someway, it all got done! Reflecting on this experience, I wonder if perhaps I have the wrong to-do list. Maybe if the number one item on my to-do list was to love instead of to run errands or finish work, I would be able to accomplish much more.
We also enjoyed some downtime today as we were tired from our travels and knew that tomorrow would be a busy day traveling across the windy mountain paths of Haiti to our project site. The mission house had a nice pool, and many of us enjoyed dipping our feet in its cool waters. We talked to local British missionaries who dine at the guest house and learned of their stories. We each drew a name of another person on our team. We were to focus on that person over the coming week and get to know them better. At week's end, we would re-introduce this person to the group and share a small hand-made or purchased item with them. It's an exercise taught to us by a former mission trip attendee and was well received by all.
We slept on bunk bedsthe eight "girls" all in one room and the three "boys" in another. In reality, our group spans in age from 19-years-old to those in their 60s. We were all geared up to do our best on this adventure. Jetlag set in, and by 9:30 p.m., we were all asleep with dreams of the days to come.
Day Two – Saturday, March 12, 2016
"This is the day that the Lord has made. We will rejoice and be glad in it."
After a restful night's sleep, the team arose to the sounds of roosters crowing and the smell of fresh Haitian coffee at the Petionville Guest House. We enjoyed good food and fellowship before everyone packed their bags into the two vehicles that would successfully carry everyone and everything to the village of Hermitage near the town of Bainet. The more than five-hour drive provided a visual tour of the variance of Haiti: the busy streets and bustling Saturday crowds in Port-au-Prince, the mopeds honking beside us, the roadside market stalls along the way, the glean of the turquoise waters and crisp skyline along the coast and the rumble and roar of vehicles that transported us up, around and over the mountains to our destination.
Upon arrival, we explored our new lodgings. We had a beautiful sun porch with picnic tables, a main room with tables for food, three bedrooms and one bathroom complete with a functional toilet and shower. It is very luxurious accommodations for this area, and we all felt comfortable and safe.
Then we unloaded the many crates and bags, set up cots, hung mosquito nets and supplied the cook room. Similar to the varied landscape we had all just traversed, this group of 11 Virginians and 5 Haitians came together in "common unity" to establish our home for the coming week. It was a beautiful sight to see every person contributing, with and without words for the common good. The need to "set up camp" was a good launching pad for our time together in Hermitage. Joining our efforts for the common good reminded us of Christ's prayer in the last week of his life on earth that we might be one, just as Christ and the Father are one.
Thank you Floris UMC and Restoration Church for making it possible for us to unite with our brothers and sisters in Haiti and to give and receive the love of Christ so fully. Most assuredly we have rejoiced and were glad in it!
Day Three – Sunday, March 13, 2016
Our first morning in the mission house, we awoke, climbed out of our mosquito nets and walked out on the open-air porch to see the most spectacular view of the Caribbean Sea. After a terrific breakfast, we put on our nice outfits and walked down the hill to the church where our new Haitian friends warmly greeted us.
The team all sat up front and listened to several Bible stories in Creole, the native language, and we attempted to sing the Creole and French songs, many with familiar tunes. It was a wonderful way to worship with the Haitian families. Their passion to praise God was inspirational and moving. After church, we had lunch and changed into shorts (adding another layer of Deet bug spray for protection against the ever-present mosquitos) as the temperature was rising to the mid-80s.
We took advantage of this free afternoon, anticipating the next four days of carrying/swinging buckets in the morning and of Vacation Bible School (VBS) in the afternoon, by touring the village of Hermitage. Some of us were fortunate enough to visit some of the houses (small concrete buildings with tin roofs or sometimes just metal sheeting standing up against each other) and pray with a few of the families. Although I had been to Haiti before, this was the first time I was able to really see how these people live. Some were cooking meals just outside their home with large pots over fire. They have no electricity or running water and live as their ancestors have lived on the land for centuries. They walk to a central spot, maybe 5-15 blocks away, to draw buckets of water for their personal use. Goats, chickens, roosters, cows, dogs and pigs roam everywhere. Half the children are not wearing shoes, and many have no pants or wear torn or tattered clothes.
Later that day, we all piled into the back of the truck and drove to the town of Bainet, about 10 minutes away down an unpaved path. Vehicle traffic is rare; most people walk or ride a burro (donkey) with a few motorcycles along the way. So this van full of "blancs" caused much attention, and we waved to everyone we saw. We viewed the tiny shops on the street where people were walking and balancing bundles of wares carried on their heads. We were invited to a local family's beautiful home. Their garden was filled with giant Croton plants and amazing trees and flowers. We were joyously entertained with song as we sat in big chairs in the backyard. We drank cool drinks, and it was one of the few times on this trip that our beverages were not hot from the sun! My personal favorite was the limonada.
Later that afternoon, we walked down to the beautiful blue-green water near our guest house. The beach, or "plage" in Creole, was mostly large white rocks and can be difficult to walk on. Undeterred, we still all enjoyed the water, which kept us incredibly buoyant due to the salt of its waters. On the way home, we enjoyed a beautiful sunset over the waters.
This was a day filled with reminders of God's beauty and why we were here. We were anxious for the next day and the chance to begin serving the people of Hermitage and enjoy time in this paradise-like land.
Day Four – Monday, March 14, 2016
After a rainy night, dodging a few drips, we awoke to our first full day of service. We had an initiation into Haiti's bucket brigade, in short, transporting many buckets of gravel, sand, water and cement to create mortar to refinish and strengthen the weakening walls of the school.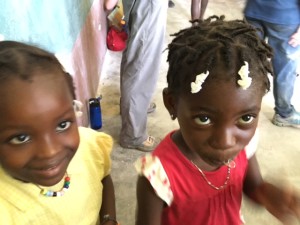 After a few hours, the bright-eyed reasons for our labor began to gather in front of the school in their yellow-checkered dresses and shirts. We listened to them sing "How Great Thou Art," which is moving in any language, followed by the Haiti national anthem. VBS began today, and the children were excited to participate in a show that one of the Haitian interpreters, Peterson, had put together of the kids singing local gospel songs. The joy was contagious and a boost for us all. Next Karen Berlin began the story of the lost sheep from the Bible and was joined, completely unscripted, by one of the youngest girls who had been upset by the noise of the singing and been isolated by her schoolmates in their bench-style desks. It was a perfect reflection of the story!
Vacation Bible School was a great break from the routine for the children. Daily we had 40-50 kids from ages 1-17 participate. On this day, we did rotations of Outdoor Bible Bingo, singing, English classes and bead necklace and bracelet making. The kids were spectacularbright-eyed heart-stealers. Even the laborers we worked side by side with were kind and welcoming as they patiently put up with our well-intended but painful butchering of their language.
In the afternoon, a few of us went on an unexpected four-hour odyssey in search of replenishing the water supply for our group. We only drank sealed water from large water bottles, but no one locally had any bottles stocked at the time. It exemplified the struggle these folks have just to maintain the simple staples of daily life and also gave us a delightful tour of the country, villages and inhabitants. Most met us with hopeful curiosity and a loving spirit that came to define this place.
Each evening, after dinner and showers, we met as a group to share a devotion. Jon Connell lead the devotional for day four and acted out the foot washing of the servant Christ by washing all of our feet as well of those of our Haitian interpreters and cooks. While doing so, he told of his connection to Haiti through his father and family, which touched all of us. We found ourselves even more committed to our mission, refreshed by God's strength for the next day.
The sun sets early in Haiti and by 6 p.m. every night, we powered up the generator for a couple more hours of light. We re-charged our camera and phone batteries (for pictures) and were generally in bed by 9 p.m. or so. The sun rises early each day, and so did we, so the sleep was welcomed!
Day Five – Tuesday, March 15, 2015
We awoke to another glorious day in Haititemperatures peaked in the high 80s with clear skies all day. Humidity was about 60 percent so we stayed hydrated and rested in the shade as needed. The night before, strong storms had swept across the area. Our guest house is made of concrete with open slats for ventilation, which also provided a medium for rain to mist us as we slept. It was cooling and actually quite refreshing!
After a morning of bucket brigade, we could see much progress as the concrete hallway and entry hall to the church was laid. The workers were skilled and moved quickly, with little time to keep up with their needs for fresh concrete.
By noon, we were famished and headed back up the hilly path to the mission house where Deena had prepared a spectacular meal for us. Sometimes it was spaghetti and meatballs and others it was beef, chicken or fish with salad, fried bread or vegetablesit was amazing what she could put together! No complaints from anyone about the foodwe gratefully devoured it!
We worked yet another shift at the construction site, taking liberal breaks from the sun and drinking volumes of water. By day five, the villagers and the kids gathered daily to interact with us. We were starting to learn the children's names, their relationships to each other, their ages, etc. They clung to us, asked us to play with them and devoured the new things we had to offer. After dinner, we gave them glow sticks to light their way home. They were fascinated with the sticks and spelled out the word "Ayiti," which is their spelling of their homeland. The sticks lit up their beautiful faces, which glowed with happiness and much joy. Yet another great day was spent in Haiti, and we went to sleep satiated with dreams of more fun to come!
Day Six – Wednesday, March 16, 2016
We arose to a beautiful sunrise over the turquoise waters and the women of the church singing some glorious sounds that echoed up the hills. It was going to be another very hot day so we doubled up on sunscreen and mosquito protection and filled our water bottles with lots to drink.
The children were eager to see us each morning, and by 7 a.m. they had often come upstairs to "hang on the porch" with us before we started our official work of the day. By day six, they were getting more proficient in English and beginning to speak to us with "please" and "thank you" as well as "Hello, how are you?" They loved when we read them easy books or went over a Creole/English dictionary and compared names and words. Some of the Haitian families cannot afford for their children to attend school so many children have long days with no purpose but to play soccer and associate with their friends. Those that attend school have yellow and white checkered outfits and leave by 8 a.m. for their studies. Having a group of missioners gather every couple of months brings welcome relief for the children, and they clearly were excited to herald our arrival.
As always, we spent the early morning on the bucket brigade. We knew the workers well by this point and shared some stories in broken sentences. One of the workers had a wonderful singing voice, and we all agreed he should try out for Haitian Idol; were there such a thing, he would likely win! He sung in English with a clear, strong voice, and his smile won all our hearts.
The schoolhouse is a two-story building with about six classrooms and a teacher's area. Our mission was to wash down the chalkboards and then paint them with black paint to make them more useable. Removing the chalk was not difficult, but it was time-consuming. Eventually, two of us began painting. We had just a small roller with no paint tray so one of us would dab the blackboard with paint while the other would use that paint to cover the board. It was a slow process to give each board two coats of paint, but we slowly accomplished our goal. We eventually accessed all the classrooms and gave each board two gleaming coats of paint, which clearly made a big difference.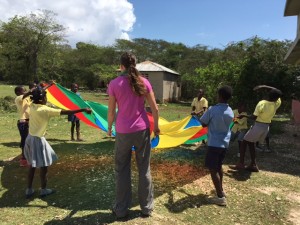 VBS continued, and after the Bible lesson, we had some fun activities for the children to experience. We brought two large parachutes with us and played endless games balancing balls on the parachute and encouraging the children to run back and forth under the large, shaded canopy. "Duck, duck, goose" became a favorite game to play with the younger children (although we are sure that they have no idea what a duck or a goose actually is). They would wait anxiously for us to tap them on the head as the "goose" and then try desperately to catch us before we completed our circle.
Mission teams often bring cameras to Haiti to capture the sights and scenes. On this trip, two of us also brought instant cameras. In VBS, the children made picture frames and then were called out one by one to have an instant photo taken of themselves. This gave them immense pleasure, and by the end of the week, each had secured at least four different photos of themselves. As word spread throughout the village, many other family members appeared, requesting photos. One of the oldest members of the community ambled down, but once I took her photo, she seemed shocked by it. The interpreter explained that she did not have access to a mirror and had not seen a picture of herself in many years. She then removed her headdress and asked for a second shot, wanting to see what her graying hair looked like underneath. Later that afternoon, she changed clothes twice more and came back, imploring us for more photos for her growing library of pictures. Daily, the call of "foto" filled the air, and we tried hard to oblige the Haitian's many photo requests.
Soccer games were endless and played in the side yard between the church and school. They set up two large stones as a goal and used an empty plastic bottle as the soccer ball. There were no uniforms and bare feet were often the norm. Down a path overlooking the water, a second beautiful soccer field has been developed. This field has a solar light and official goals. The older children played continuously and showed off their impressive skills. Many of us joined in on the games and had a great time sharing in the competition.
Earlier that morning, all 11 of us were gaily dressed with hair bows. The women added the bows to our hair, and yes, even the men agreed to add bright bows to their caps or shirts! We did this to advertise to the girls that we were going to have a hair bow-making event in the church that afternoon. This was a new craft to many of the female team members so the night before, we had a training session to better understand how to teach bow making to the girls. We used what materials we had and let the kids have some fun. The boys also joined in and made presents for their mothers or girlfriends. Young children made beautiful headbands with flowers or gems on them. Some showed great talent right away while others showed promise after more practice. Many of the girls went home with additional ribbon to keep practicing. This craft was something new to them, and they loved manipulating the ribbon. For the rest of the week, they proudly wore their new ribbons with big smiles.
Daily after our afternoon construction sessions, we visited the beach. There were two ways to get there; one was to follow a long, winding path along a small stream where local women were usually washing clothes and then continue along the rocky shore. The second option was to follow what can amply be called a "goat trail" down a steep path to the shore. It got even more difficult when you had two or three small children who were sure of foot, anxiously pulling you by both hands down the path. Most of us were able to successfully get to the bottom, but it was not without a lot of grit and determination. Still, the reward was in the cool waters that never failed to re-energize us all. God is good!
Day Seven – Thursday, March 17, 2016
Breakfast was spectacular with a gorgeous sunrise to add to our morning pleasure. It was St. Patrick's Day back home but just an ordinary workday for us in Haiti!
Some of us joined the bucket brigades while others went to the church to set up for VBS and distributions. After songs and our Bible story, the children broke up into three groups. One made crosses and decorated them. Another worked on their growing English knowledge, and the third were led into the church, a few at a time, for some gifts. Over the past few months leading up to the trip, the Chantilly Youth and Vienna Youth soccer players had donated their jerseys, socks and cleats to the children in Haiti. We had collected over 170 shirts and about 50 cleats and tennis shoes. We had also collected many soccer balls, pinnies, ball pumps, backpacks and other soccer paraphernalia. In addition, the Rainbow Sandals Company out of California agreed to donate over 100 pairs of used, quality leather sandals. All these items were laid out across the front of the church, and we individually worked with each child to find the right size shoes or sandals, jersey and sometimes shorts and socks. We panicked the night before, as we knew that if we did not have enough for everyone, we could not give things out. But just as in the loaves and fish story from the Bible, we compared the number of children who attended VBS with the quantity of cleats and shoes and determined that we would be okay. The sandals were mostly for the adults in the congregation and village and for many of the older girls who did not play soccer daily.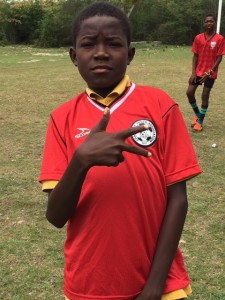 It was a good day. The kids had huge smiles as they took off their tattered shirts and replaced them with brightly colored, silky jerseys. They tested out the cleats and new balls in impromptu games outside the church. "Foto" calls were everywhere, as they wanted to see for themselves in living color how they looked. The locals also seemed pleased with the many sandal options, and we all received many hugs and smiles as their tired feet received some protective covering from the rocky, dusty paths they travel daily.
At night the kids came over early and were reluctant to go home. They were empty vessels, clearly wanting more affection, hugs and love than we could ever provide them. They sang songs in English to thank us for the ESL training and lingered until way after dark, not wanting to separate from us. We hated to send them back home, knowing that we were leaving the next day.
Day Eight – Friday, March 18, 2016
"Parting is such sweet sorrow." No phrase better described our departure from the village of Hermitage back to Port-au-Prince. The children appeared early this morning for one last visit, hoping for more time with us before we had to leave. It was fun to see so many of them in their new soccer shirts. School was out for spring break, and the children seemed sad to see us packing up. They did their part to help us carry bags down the flight of stairs and then over the wooded path to the church steps. All the faces that were so new to us less than a week ago were so familiar to us as we got ready to leave. We all were touched by the children's genuine dismay and the parents' clear appreciation expressed to our group. There were many hugs and promises to return, and no one wanted to make that final jump into the van to head back home.
In Bainet, we made a stop at the store owned by the lovely couple that provided us with such gracious hospitality back on Sunday, and we all purchased some cool drinks for the long ride back to Port-au-Prince. The six-hour trip was long and windy, but the talk never subsided inside the van. There were calls of "That's awesome!" or "Look at that!" as we viewed our last sights of rural Haiti. We approached a local village where it was market day. We slowed to traverse through the crowded streets where everything you could want for was being sold. Instead of a parking lot full of cars, there was a "burro lot" where all the burros that had brought products and people to the market were tied.
We took a quick tour of Port-au-Prince, and many of us who had been there before remarked on the many changes we noted during this trip. Garbage is still a problem, but we noticed that garbage trucks patrolled the streets and the city seemed to be making better efforts to collect and contain the garbage. "Tent City," which had appeared in downtown Port-au-Prince across from the Haitian presidential palace after the 2010 earthquake, has disappeared, and many more people are living in permanent homes. Things feel more prosperous, and the spirit of the strong Haitian people remains indomitable.
Before dinner, several of us journeyed to Giant, an upscale grocery store in the area. It had refrigerated foods familiar to our palate, flowers and souvenirs, and it reminded us of our local stores with the same name. We delighted in purchasing Haitian coffee, Haitian chocolate and some small gifts to be exchanged the next morning with our fellow team members.
Dinner was delightful at the guest house, as always. We then debriefed with the staff of the guest house and gave our suggestions for future groups. Many positive comments were shared as we all had very good feelings about our week in Haiti. Some of us took early evening showers while others chose to sit around the pool, relax on the porch or retreat to some solitary reading by flashlight before we fell asleep on our last night in Haiti.
Day Nine – Saturday, March 19, 2016
On our departure day, our thoughts were heavy with memories of our new friends that we were leaving behind. While the U.S. had participated in "springing forward" and moving our clocks ahead an hour, the Haitians apparently had not so we had a little confusion about when our flight would actually leave. After a fun team activity of giving out our handmade or small purchased items and sharing many positive accolades from the group about each person, we packed up our bags for the last time and headed to the airport. The mood of the group was contemplative and solemn. We all knew that this was our final trip across the city and that we were oh-to-soon going to re-enter our busy homes in Northern Virginia.
The airport had changed since the last time I was there with many more gift shops on the upper floor; many of us scurried for last minute shopping. There was also a restaurant where we enjoyed several plates of French fries to tide us over until we arrived in the U.S. There were many other mission teams from across the country there, and we had some animated discussions comparing our experiences with other teams. By 2 p.m., we were boarding our flight home.
The first flight took us to Fort Lauderdale, Florida where we had a couple-hour layover. We enjoyed a fun meal in the airport, going over photos and catching up on the many emails that had collected while we were inaccessible to electronic mail. We called our loved ones and advised them on our final travel plans and where we would meet them upon our arrival.
The final leg of the journey was sad but comforting. We were not 11 strangers anymore. We all knew each other well now and were a tight bunch. It was hard to say goodbye after so many days of non-stop time spent together, yet we were also anxious to return to our old livesour significant others were gathered at the baggage claim, anxious to hear about our trip and glad that we were all finally home safe.
Reflections
There is magic in a mission trip. You can't predict or define it, but it slowly builds as the group bonds during the many months of pre-planning and while overseas. We share a lot of stories over our many days together and countless activities. We leave as strangers and return as best friends.
This was my third trip to Haiti. No trip has been the same, each special and unique. It will be hard to re-enter our lives here with such unique memories to cherish. Many of us have posted photos of our trip on Facebook, renewing our love for the Haitian people with each shot. We all talk about our desire to return in years to come. We will look out for each other at church on Sunday and in our Bible study groups as we share a special, happy memory of the magical week spent together in Hermitage, Haiti.
The post Haiti Mission Trip 2016 appeared first on Today I Saw God.