Editor's Note: This post is one of the last posts from a series detailing a mission trip to Haiti by members of the Floris congregation. If you missed previous posts, you can catch up on them here.
Submitted by Jim Hardy
Great day, leaving the Guest House returning to the city! The "extraction plan" developed by our fearless leader called for a 9 AM departure. As often noted, this estimate was team time- not HAITI time. Due to late night rain storms the road from Port-au-Prince to Petit Goave washed out causing severe delays in traffic. Consequently, we had time for a quick walk to the beach. What a glorious view of the bay and surrounding land. Then on the road again.
Traffic was not good, especially to those of us who do not know the rules of the road in Haiti. Basically they are four simple rules. #1 do not make eye contact with other drivers, #2 Bigger wins, #3 Stop signs are optional and #4 He who honks longest and loudest has priority. Having followed all the above rules, we arrived in time for a late lunch in Port-au-Prince at the world famous 5 Coins restaurant for a lunch of chicken and red beans and rice (think Popeye's but with 3 tables).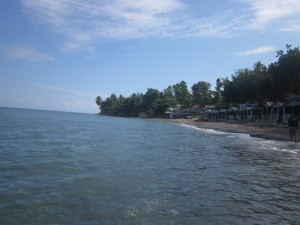 Following lunch we visited one of the most spectacular views in Haiti. This is the Port-au-Prince overlook. The view from this point allows you to see all of the city as well as most of the coast of the eastern end of the island. Truly an amazing sight! We then safely motored to the Methodist Guest House in Petion-ville for our final dinner, which was excellent! Following some relaxing time at the guest house and a home cooked dinner, we were debriefed by the UMVIM representative. He solicited our comments on our trip which we freely submitted. While we all felt that the trip was an amazing and fulfilling experience, we provided several suggestions, which would make it even better.
The post Haiti Mission Trip #5 Eighth Post: Returning to Port-au-Prince appeared first on Today I Saw God.