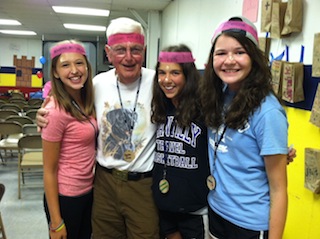 These past three days have been a blast! I think everyone can agree that the work we've done for other people has beenlife changing. Even though the mornings are cold, the working hours warm our hearts knowing that our hard work and perseverance gets the job done. Meeting new people from other churches allows us to create new friendships while growing in our faith. Every night the director leads us in songs, a program and prayer. It's a perfect way to end a busy day.
-Megan Connell
Today at our work site we had an awesome time. A little girl, Penelope, was there with her little brother, LJ. They were so excited to help and that we were there. They were helping us take pictures and watching us. I am really glad we got to meet them and got to be a part of their lives.
-Kaitlin Bracewell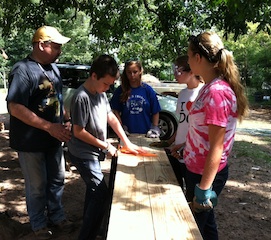 Today at JP my group went to the Patomic Center. The Patomic Center is where people under 18 with tough lives go to stay. We started the day by raking leaves and cutting plants. I really liked cutting the plants because we got to swing the tool like a golf club. At lunch we had a really good devotional. We talked about things that are broken in our world and how they will be fixed in heaven with God. Next, we started to clear a pipe to let the water run through. It was hard because the pipe was really long and had lots of leaves. It took a bit of work and my long arms to get the job done. We had to leave the site early because there were so many bees, and it was dangerous. I was really sad because I wanted to finish the job.
We went to Dairy Queen and got back to camp early. It was nice because the girls in my group and I all talked about stuff going on in our lives. I feel like I've known them forever now. For our message tonight we talked about things that separate us from God, which really spoke to us all. We wrote things that separate us on shards of tile. Putting that on the table was such a relief, like a weight lifted off of my shoulders. After that I played a game on the swings with Farren and Sally. I love JP!
-Sarah Williams
I saw God today all over the camp. I saw God in my work team. Katie is funny, courageous and hard working. Amber is cool, brave and hard working. Jacob is shy but very hard working. I hope to help him come out of his shell. Sally is persistent, hard working and very funny. My leaders are great and are very inspiring and cool. I also saw God when I fell off the carousel and busted up my knee. I saw God whenRachel (after specifically stating that she, "Does not do blood") cleaned my wound and put on my Band-Aid.
-Graham Horvath
The post Jeremiah Project Updates appeared first on Today I Saw God.