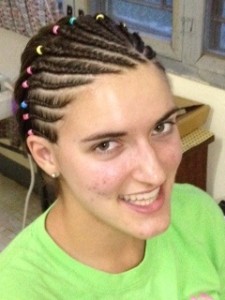 Today was our first full day in Bo. And it was awesome!
We woke up, ate a delicious breakfast, and then had our morning devotion time. Our projects for the day were to make a concrete bridge to cover the water drain around one of the family houses and to paint the inside of a house. I had the chance to work on both projects. In the morning, I helped with the concrete project. It was fun to work with and talk to the two men from Bo who were showing us what to do. In the afternoon, I painted the ceiling and walls in a couple of rooms in one of the family houses.
Dinner wasAMAZING (as all the food has been so far). My favorite part was when all of the kids in the CRC, the Aunties, and our team gathered to watch some of the children do SierraLeonean dances. It was amazing. The room was filled with energy, joy, and excitement.After they did their performance theyhad us learn some of the dances. Then our team performed a skit about Jonah for them.I laughedso much tonight with the kids and the team. It was truly a blessing tofeel so close topeople whoI have known for just over 24 hours. So my first impressionGod's love is abundant at the CRC.
Submitted by Emily Lopynski
The post Our First Full Day in Bo appeared first on Today I Saw God.