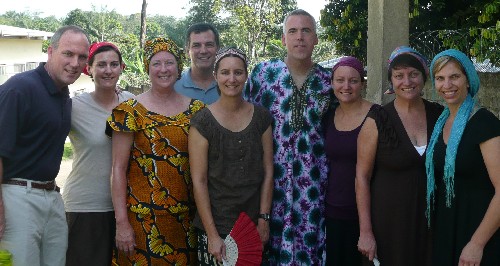 Wow! What a day! We're running the generator tonight because the local power has been off all day. That's not news around here.
We attended Leader Memorial United Methodist Church this morning. Surprisingly, worship was only about 3 hours today! We spent the afternoon playing with the children today. They also took a walk to a nearby school where the kids showed us a crocodile. We adults are worn out. Each evening, we attend vespers with the children. Tonight, they recited all the books of the Old Testament to us.
Tomorrow, we will go over infection control with the hospital staff. We will give immunizations to the children, and give them dental screenings.
For those of you who have been here yourselves: Ibrahim stopped by today, and he is reported to be cancer free. Mohammed, who was a porter at the hospital and is known and loved by many, is still recovering from his injured leg. Mother Emma continues to be an inspiration.
The post Sierra Leone Medical Mission Trip: November 2010 appeared first on Today I Saw God.