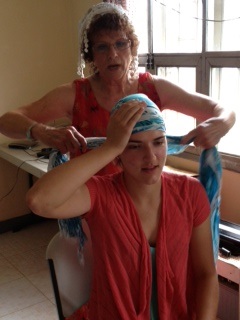 Today started out as another beautiful day in Sierra Leone. At 10 a.m., after breakfast, we went to church. For the girls, getting ready for church here in Sierra Leone was different from our normal routine at home. To be respectful of the culture, we wrapped our heads with scarves. When we were all ready, we walked to the United Methodist Church and joined the congregation in worship. The whole 2 hours and 45 minutes at church was an amazing experience. All of the Sierra Leonean women looked beautiful in their dresses and everyone was so happy. There was a lot of joyous singing and dancing, and our team felt very welcome.
After church, we ate lunch and went over to the CRC to play with the children. We then walked with some of the older kids down the street to a local high school, Christ the King College, to see their mascot, a crocodile. None of the CRC children currently attend the school, but they told us that if anyone in the school got in trouble, their punishment was to feed the crocodile and clean his cage. They said that a friend would have to distract the crocodile with food while the other snuck into the cage to clean it. That must keep a lot of kids from misbehaving.
We continued our walk with the kids around Bo, hand in hand, and saw the first CRC. I had the pleasure of walking next to Mustapha and Idrissa as they told me about the different things we saw. Once we arrived back home, we ate dinner and then joined the kids again for Bible study and vespers in the evening.
The happiness and love expressed by the children still amazes me each day and I can't wait to see what God has in store for us tomorrow.
Submitted by Katie Athearn
The post Sunday in Sierra Leone appeared first on Today I Saw God.