I couldn't shake the butterflies in my stomach the evening before my first day of teaching 1st grade math for Camp Hutchison. I was so excited and nervous, which is only funny because I'd taught little ones before, but it had been awhile since I'd been in a classroom and all the insecurities that come with teaching, i.e.,Will I be able to help? Will the kiddos have fun? Will I say the right things?, came flooding back to me.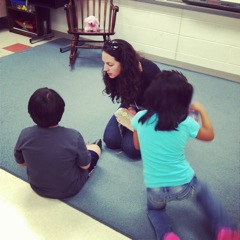 We, the instructional staff, interns and Jake McGlothin, the Director of Serve Ministries, met before the campers arrived to discuss important information and to pray. I'll be honest, I had a million and one things running through my head for the first lesson, and I was ready to be back in the classroom preparing. But as we bowed our heads and Jake prayed for the hands of those who would serve the students, I felt the butterflies leave, and I was reminded of why I was there. I was reminded of how God put it on my heart to volunteer the second I read about Camp Hutchison in the bulletin at church. I was reminded of how much God loves each and every one of the children I was about to meet. And I was reminded of what a blessing it is to serve.
As the campers came rushing into the classroom with their stomachs full from the camp breakfast and their arms wrapped around the counselors they clearly adored, I couldn't help but feel privileged to be a part of this. Every smile, every, 'This is awesome!' and even every challenge (because let's face it, it's summer, and I'm asking them to think and you know, do math etc…) has been a gift. At the end of each day when we've met again to check in, someone has always thanked us for volunteering, but I'd feel silly saying, "You're welcome" because it's me who's overwhelmed with gratitude over this experience.
Submitted by Maren Gazulis
The post Teaching at Camp Hutchison appeared first on Today I Saw God.